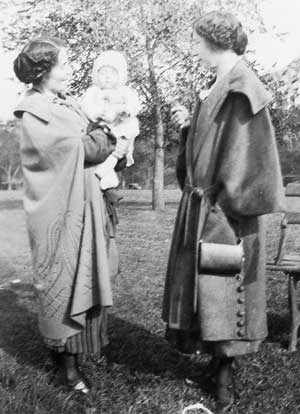 I  labeled this photo Mary and Ethel Hocker. Ethel Hocker was the daughter of Albert Curtin and Lillian (Leedy) Hocker. She married twice, first to Harry Thomas Allen and second to Wesley Edward Foster, Jr. I am presuming the Mary Hocker refers to Mary (Curran) Hocker, wife of Levi Ainsley Hocker and Ethel's sister-in-law.
Cite This Page:
Kris Hocker, "Photo: Mary (Curran) Hocker and Ethel (Hocker) Allen," /genealogy the genealogy & family research site of Kris Hocker, modified 4 Jan 2010 (http://www.krishocker.com/photo-mary-curran-hocker-and-ethel-hocker-allen/ : accessed 3 Sep 2015).
Content copyright © 2010 Kris Hocker. Please do not copy without prior permission, attribution, and link back to this page.