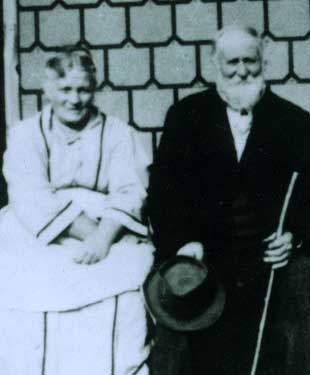 Samuel Thomas, son of Christian and Caroline (Kinnard) Hoover, married Victoria Walker, daughter of Jacob C. and Mary M. (Eckley) Walker, in 1879. They lived in Pine Glen, Burnside township, Centre county, Pennsylvania. This photo was taken during their old age, but before Samuel's death in 1930.
Cite This Page:
Kris Hocker, "Photo: Samuel and Victoria Hoover," /genealogy the genealogy & family research site of Kris Hocker, modified 4 Jan 2010 (http://www.krishocker.com/photo-samuel-and-victoria-hoover/ : accessed 1 Sep 2015).
Content copyright © 2010 Kris Hocker. Please do not copy without prior permission, attribution, and link back to this page.