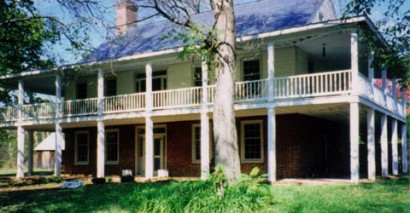 Slate River Mills in Buckingham county, Virginia was once the home of Johan Adam and Ann (Dillet) Hocker and their children. Born and raised at Erdenheim, outside Philadelphia, Johan Adam went to Virgina about 1795 to construct mills. He purchased Slate River Mills after his father's death in 1821. He died in 1847, his wife in 1825.
My great-uncle William Wingeard took the photo, I believe, in 1980s during a research trip to Virginia.
Cite This Page:
Kris Hocker, "Photo: Slate River Mills," /genealogy the genealogy & family research site of Kris Hocker, modified 4 Jan 2010 (http://www.krishocker.com/photo-slate-river-mills/ : accessed 2 Sep 2015).
Content copyright © 2010 Kris Hocker. Please do not copy without prior permission, attribution, and link back to this page.