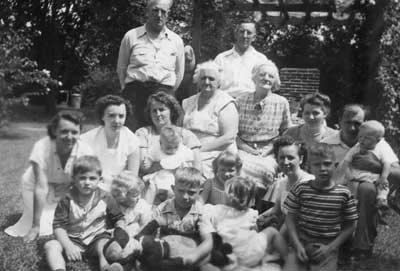 The family of William H. Hocker, including brother-in-law Robert Thomas Alexander Smith (standing left), wife Isabella (seated center left) and mother-in-law Eliza Craig (Bonnington) Smith Cochrane (seated center right).
Standing: Robert Smith, William H. Hocker Sr.
Seated, back: Meriam (Hocker) Ziegler, Isabella (Hocker) Ruder, Anna Louise (Hocker) Hoover, Isabella (wife), Eliza Smith Cochrane, Ruth Hocker, Willard Hoover; Seated, front: assorted grandchildren and Betty Jean (Hocker) Wingeard.