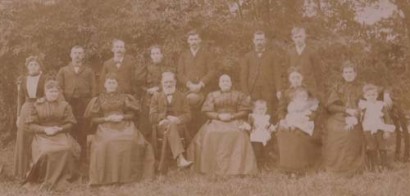 The Witmer family group shot, possibly the summer of 1894. I don't know if I can correctly identify everyone, but here goes…
Left to right:
(Standing) Lillian Witmer Snyder, Henry D. Snyder, Willoby Snyder, Cora (Gussman) Witmer, Milton K. Witmer, Horace K. Witmer, Wilmer Witmer (child), Milton B. Nace, Herbert W. Nace (child)
(Sitting) Saraphine (Witmer) Snyder, Emma (Witmer) Snyder, Edward J. Witmer, Lydia Amanda (Kline) Witmer, Mary A. (Breish) Witmer, Morris Witmer (child), and Elmira (Witmer) Nace
Cite This Page:
Kris Hocker, "Photo: Witmer Family Portrait," /genealogy the genealogy & family research site of Kris Hocker, modified 18 Jan 2014 (http://www.krishocker.com/photo-witmer-family-portrait/ : accessed 29 Aug 2015).
Content copyright © 2014 Kris Hocker. Please do not copy without prior permission, attribution, and link back to this page.