In honor of Memorial Day, I'd like to take a moment to remember those in my family who've served in the military.
I grew up an Air Force brat. My father was Air Force ROTC in college and joined the Air Force upon graduation. We lived in multiple states and even overseas before his twenty years were up and he retired. He never fought in a war, but he served his country nonetheless.
My mother's younger brother served in the Army during the Vietnam War.
My father's dad, William Hocker, enlisted during World War II. A trick knee kept him stateside, but the Navy put his carpentry skills to use building at a Naval base in Florida.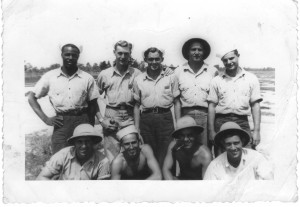 This photo shows his crew. My grandfather is the second man from the left in the bottom row. The photo includes a list of names on the back for seven of the men: Chilton Butler (Kentucky), J. Julian Hugo (Connecticut), A.M. Wade (Kentucky), Roland Imbriaco (Providence, Rhode Island), L.W. T[??]asher (Georgia), Vernon Turner (Georgia), and James K. Collier (Mississippi). Unfortunately, I don't know which name goes with which man and there are nine people in the photo.
Two of my great uncles also served during World War II: Harold Ruder, husband of my grandfather's sister Bonnie, and William Wingeard, husband of my grandfather's sister Betty Jean. Both were stationed overseas—Uncle Boots [Ruder] in Europe and Uncle Bill in the Pacific.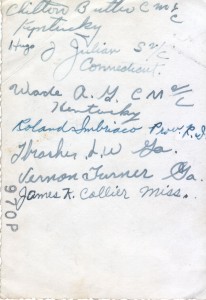 All three have since passed on.
One of my Smith relatives served in France during World War I. William M. Smith Jr. supposedly enlisted in the Army under the assumed name John Norwood. He remained in France after the war.
At least three of my ancestors served during the Civil War. Christian Hoover was drafted for the Union Army from Jefferson County, Pennsylvania in 1863.1 According to the record, he was born in Armstrong County, Pennsylvania and was a farmer. It also states that he was 44 years old, with gray(?) eyes, brown hair, and fair skin, standing 5′ 11″ tall. I believe Christian's brothers Ralston and Samuel both served, as did his cousin Christian R. Hoover. Ralston enlisted on 1 Aug 1861 in the 63rd Pennsylvania Infantry, Company D. He died at Baltimore Cross Roads, Virginia.2
Jefferson Force was drafted for the Union Army from Centre County in Jun 1863. He was a 33 year-old, married laborer who was born in Pennsylvania and resided in Burnside Township.3 He enlisted 20 Dec 1864 at Troy, Pennsylvania and was mustered out 17 Jul 1865 at Alexandria, Virginia. He served with the 45th Pennsylvania Infantry Volunteers, Company E IX Corps, 1st Brigade, 1st Division. His name is engraved on a plaque in Bellefonte, Centre County, Pennsylvania. Jefferson's presumed brother Martin V. Force also served as a Private in Company E of the 5th Pennsylvania Reserves.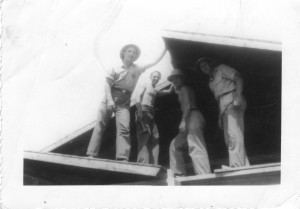 James Benjamin Houdeshell served in the Confederate Army during the Civil War in the 14th Virginia Militia, Company A. He mustered in 10 Sep 1861 at Wardensville, Hardy County, Virginia.4 According to his obituary, he enlisted 24 Feb 1865 in the Maryland Infantry, 13th Regiment, Company I and mustered out at the end of the war.5 Benjamin's brothers George W. and Adam Jr. both served as well.
I'm sure there are more that I've missed. But whether I know their names or not, I'm proud of their service to their country and their fellow Americans. Their sacrifices should not be forgotten.