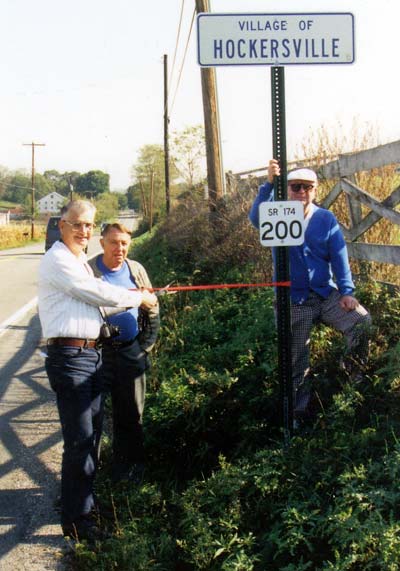 Two Hockers and a Hocker spouse at the Hockersville village road sign—I believe—in Cumberland county, Pennsylvania. William Hocker Jr. (1918—2008) and John Garrett Hocker Jr. are standing in the road while William Wingeard (1915—1998), husband of Betty Jean (Hocker) Wingeard is holding the signpost.
How can I not be sure where Hockersville is, you ask. Well, there are two—yes, two!—Hockersvilles in Pennsylvania. One is located in Derry township, Dauphin county, Pennsylvania. It was named in honor of Martin Hocker (1768—1862). The other (pictured above) is located in Penn township, Cumberland County, Pennsylvania. It was the home of Johannes "John" W. Hocker (1804—1884), son of Martin Hocker, and also John's sister Catharine (Hocker) Greiner (1802—1871) and her husband Anthony Greiner (1802—1871) for a time.
Bill Wingeard wrote:
"Hockersville, in Cumberland County, is a really small village on the Walnut Bottom road. This road, at the time John had his tavern, was a main road from Shippensburg, Chambersburg, and the Shenandoah, Virginia valley to Carlisle, York, Lancaster and Philadelphia. Hockersville was half way between Shippensburg and Carlisle, which made it an ideal site for travelers, draymen, drovers, etc. to stop and refresh themselves."
Cite This Page:
Kris Hocker, "Road to Hockersville," /genealogy the genealogy & family research site of Kris Hocker, modified 9 Mar 2014 (http://www.krishocker.com/road-to-hockersville/ : accessed 30 Aug 2015).
Content copyright © 2014 Kris Hocker. Please do not copy without prior permission, attribution, and link back to this page.