My great great grandfather Albert Curtin Hocker was born 9 September 1860 in Swatara Township, Dauphin County, Pennsylvania.1 He was the fourth son of Levi and Anna (Frantz) Hocker. Albert was only 16 years old when his father died of an apparent suicidal drowning. Levi disappeared one night in October 1876. His body wasn't found until the following April. It must have been very difficult for his family as they waited through the winter to learn whether or not he was still alive.
In 1881, Albert married Lillian Ainsley Leedy, daughter of Samuel Krehl and Sarah (Parsons) Leedy. Lilly was born 4 May 1861 in Perry County, Pennsylvania.2 Lillian was their fourth child and second daughter. She was one of nine children.3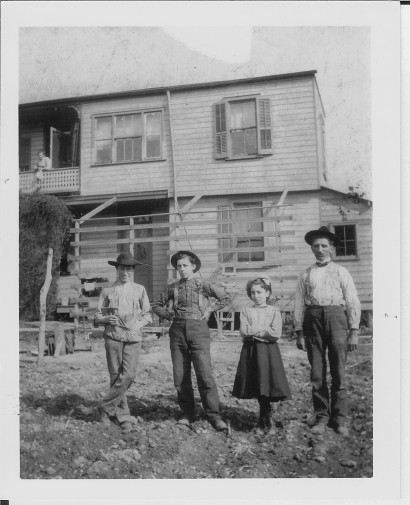 Albert was a carpenter, farmer, and huckster. My grandfather told me stories about his grandfather falling asleep coming home from his rounds selling vegetables from a cart and his horse bringing him safely home. He and Lillian owned a house in Upper Swatara Township—now part of Harrisburg—and ran a store from the front room.
They moved to a farm near Newville, Cumberland County sometime after 1900.4 Albert died on 24 July 1940 in Cumberland County of a coronary thrombosis (heart attack). He was buried on 27 July 1940 in Paxtang Cemetery, Dauphin County, Pennsylvania.5
Lillian died on 20 January 1942 in Cumberland County due to coronary sclerosis and cerebral arteriosclerosis.6 She was also buried in Paxtang Cemetery on 23 January 1942.
Albert Curtin and Lillian Ainsley (Leedy) Hocker had the following children:
Ethel Pearl Hocker was born 4 May 1882 and died June 1948. She married Harry Thomas Allen, then Wesley Edward Foster Jr.
Krehl Samuel Hocker was born 12 February 1885 and died 7 July 1935. He married Opal Emma Luehrs.
Levi Ainsley/Ainsworth Hocker was born 19 October 1886 and died in May 1965. He married Mary Curran.
Albert Curtin Hocker Jr. was born 1 August 1888 and died 18 September 1935. He married Bena May Frey.
William Howard Hocker was born 17 August 1890 and died 22 March 1967. He married Isabella Aitken Smith.
Anna Frantz Hocker was born 9 November 1892 and died in 1961. She married Vernon Hastins Yinger.