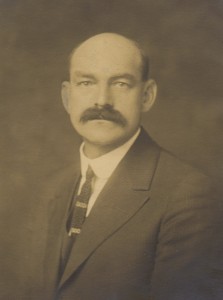 From Scotland to West Virginia
Alexander Bonnington was born on 16 August 1875 in Durhamtown, Bathgate, Linlithgow, Scotland, the third son of Peter Purvis and Elizabeth (Buchanan) Bonnington.[1] He grew up in the lowlands of Scotland between Edinburgh and Glasgow. His father died on 16 September 1891 when Alexander was 16 years-old.[2]
On 27 January 1899, he married Christina Peace, daughter of James and Isabella (Brown) Peace, in Loanhead, Lasswade, Edinburgh, Scotland.[3] By the fall 1900, Alexander and Christina were living in England as their eldest child James P. Bonnington was born in Newcastle upon Tyne, Northumberland on 5 November 1900. They were living in Heaton, Newcastle upon Tyne at the time of the 1901 census for England.[4] Alexander was a clerk.
The Bonningtons did not remain in England, however. By the fall of 1913, the family was living in Wallaceburg, Kent, Ontario, Canada. Their daughter Alexandra Marguerite Bonnington was born there on 9 November 1913.[5] Alexander was a chemical engineer.
Alexander made several trips to the United States. He crossed into the U.S. at Niagara Falls on 5 December 1915, then at St. Albans, Vermont on 24 December 1915.[6] According to his border crossing card, he had previously been to the U.S. in 1910 to visit his sister Elizabeth Cochrane of 35 West 18th Street, Harrisburg. He had arrived on 1 August in New York.
This time, apparently, was to settle in the U.S. His wife Christina followed him, entering through Niagara Falls on 6 January 1916, accompanied by her children James and Alexandra.[7] It appears from her entry card that her husband was working for a chemical company, perhaps out of New Jersey.
The family was settled in South Charleston, West Virginia by 17 January 1920 when they were listed in the 1920 U.S. Census.[8] Christina died sometime between the 1920 census and 1924 when Alexander remarried.[9] He married Martha Krich and the couple had a son. In 1930, the family was living in Huntingdon, Cabell County, West Virginia.[10]
Martha (Krich) Bonnington died in Cabell County, West Virginia on 1 March 1953.[11] I believe Alexander died in Nebraska in February 1964.
Alexander was my 3rd great uncle, his sister Eliza Craig (Bonnington) Smith Cochrane, my GG grandmother. My grandfather Hocker and his sister Jean spoke of their parents visiting him in West Virginia.
Cite This Page:
Kris Hocker, "Surname Saturday: Alexander Bonnington," /genealogy the genealogy & family research site of Kris Hocker, modified 7 Aug 2012 (http://www.krishocker.com/surname-saturday-alexander-bonnington/ : accessed 18 Dec 2014).
Content copyright © Kris Hocker. Please do not copy without prior permission, attribution, and link back to this page.