I just recently got the death certificate for the last of my direct ancestors who died after 1906—the year Pennsylvania started registering births and deaths at the state level, as opposed to the county level. Her name was Judith (Deysher) Snyder.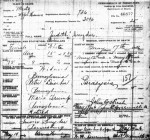 Judith was the widow of Joseph Snyder.1 She died of paralysis on 17 May 1906 and was buried on the 24th at the New Goshenhoppen Church Cemetery in East Greenville, Montgomery County, Pennsylvania. She was born on 15 Aug 1830 to Peter Deischer and Maria Trump in Pennsylvania.
Judith married Joseph Snyder circa 1855 and had children:
Irwin Oscar Snyder, b. 13 Jan 1856, d. 27 Oct 1919
Mary Jane Snyder, b. ca 1857/8
Henry D. Snyder, b. 3 Mar 1859, d. 30 Sep 1931
Clement D. Snyder, b. 8 Mar 1862, d. 23 Aug 1911
Mahlon Snyder, b. 16 Sep 1865, d. 4 Jan 1921
Amandus D. Snyder, b. 15 Aug 1868, d. 20 Sep 1932
Mary Snyder, b. ca 1871
Ida D. Snyder, b. ca 1876, d. ca 1938
An examination of 1850 census records showed a Peter and Maria Deisher, ages 55 and 56, in Hereford Township, Berks County, Pennsylvania. 2 Presuming this is the correct Peter and Maria, then Judith likely had a brother Charles and a sister Amanda. The household was:
Peter Deisher, age 55, M, Farmer, $1700, Pennsylvania
Maria Deisher, age 56, F, Pennsylvania
Amanda Deisher, age 17, F, Pennsylvania
Elmire M. Schuby, age 3, F, Pennsylvania
Charles Deischer, age 31, M, Farmer, Pennsylvania
Barbara Deischer, age 25, F, Pennsylvania
William Deischer, age 10, M, Pennsylvania
Peter Deischer can be found in Hereford Township in the 1820, 1840, 1850, and 1860 U.S. census records. He likely died sometime between 1860 and 1870 as Maria shows up in the 1870 census in Charles Deysher's household.
I'm looking for more information on the family of Peter Deischer and Maria Trump, their children and their parents.
Footnotes
Judith Snyder, death certificate number 46877 (1906), Pennsylvania Department of Health, Bureau of Vital Statistics, New Castle, Pennsylvania. ↩
Peter Deischer household, 1850 United States Census, Berks County, Pennsylvania, population schedule, Hereford Township, Page 46B, Dwelling 139, Family 148, Lines 32-38; National Archives micropublication M432, roll 753 ↩