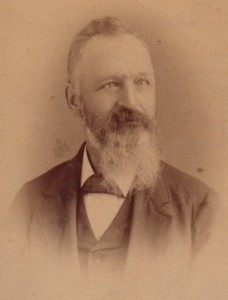 My great great grandfather, Charles T. Waage, was born on 22 Oct 1827 in Milton, Northumberland County, Pennsylvania. He was the eldest son of Rev. Frederick and Angelina (Garber) Waage.[1] He died on 6 Mar 1921 of Uremic Porcine (renal failure) in Pennsburg, Montgomery County, Pennsylvania and was buried 3 days later at the Pennsburg Reformed Cemetery.[2]
Charles studied medicine at Jefferson Medical college in Philadelphia and graduated in March 1849. He first practiced at East Rock Hill in Bucks County, then moved to Pennsburg, Montgomery County where he remained. "He has been a useful man in the community in which he has lived for most a half century in other ways that as a skilled practitioner of medicine. He has always had at heart the political, social, educational and material interests of the community. He is a devout member of the Lutheran church, is a Democrat in political texture, and has served twenty-three years continuously as a member of the school board in his borough, always taking an active and intelligent interest in the cause of popular education."[3]
He married Mary Ann Heisler on 15 Sep 1857.[4] She was born 4 Jan 1835 and died 8 Jan 1875 in Pennsburg. She was buried at St. Paul's Lutheran Church. After Mary Ann's death, Charles married again to Lydia Eshbach on 29 Aug 1879. Lydia was born 3 Oct 1845 in Albertis, Lehigh County, Pennsylvania, daughter of Henry Meyer and Catharine Lydia (Bobb) Eshbach. Lydia died of pneumonia and Bright's disease on 7 May 1910 and was buried 4 days later in Pennsburg Reformed Church Cemetery.[5]
Charles and Mary Ann (Heisler) Waage had four children:
Ida E. Waage, born 28 Aug 1854 and died before 1890
Emma Josephine Waage, born 29 Feb 1856 and died 3 Jan 1869
Eugene H. Waage, born 29 Oct 1960 and died after 1930, married Elizabeth "Lizzie" Kessler, circa 1887 in Philadelphia
Charles Frederick Waage, born 11 Sep 1862 and died 28 Sep 1863
Charles and Lydia (Eshbach) Waage had one child:
Mary Catharine Waage, born 27 Oct 1877 and died 28 Nov 1970, married Edwin J. Wieder, son of Emanuel J. and Alavesta Esther (Dillinger) Wieder
Cite This Page:
Kris Hocker, "Surname Saturday: Dr. Charles T. Waage," /genealogy the genealogy & family research site of Kris Hocker, modified 8 Dec 2012 (http://www.krishocker.com/surname-saturday-dr-charles-t-waage/ : accessed 26 Jan 2015).
Content copyright © Kris Hocker. Please do not copy without prior permission, attribution, and link back to this page.