Jacob Huber was born circa 1698, and likely immigrated in 1717.1 He appears on tax records for Conestoga Township, Chester County from 1718 through 1725, settling on Pequea Creek on a tract of land in Conestoga and Martic Townships (now Pequea and Providence) which adjoined Ulrich Huber's land. He warranted 105 acres.2 It was surveyed 28 Jan 1733. He is listed with four children in Lancaster County on a reconstructed 1732 census of Mennonite families.3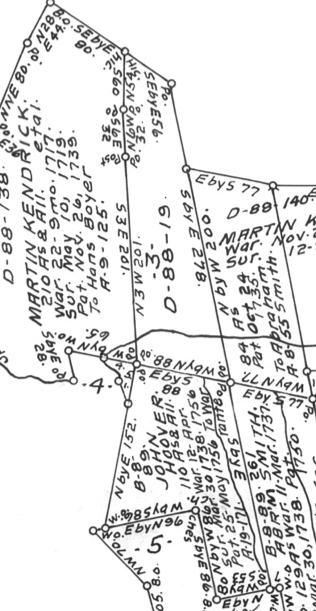 Jacob likely died sometime prior to 23 Nov 1739. Hans Boyer, a neighbor, patented his land on 26 Nov 1739.4 Boyer's survey refers to Jacob Huber's tract as belonging to the Widow Hoober. This tract of 105 acres was patented to John Huber on 2 Oct 1744.5 The survey refers to this tract as being of "Barbara (the widow of Jacob) Hoover… in right of Martin Kendrick and John Heer.6 John Hoover patented an adjoining tract of land, containing 110 acres, on 25 May 1756. This tract was surveyed in 1738.7,8
If you go by Davis' 1732 reconstructed Mennonite census, then Jacob and Barbara (___) Huber had at least four children prior to 1732. Davis provides two possible birth years for Jacob—1675 and 1698. I do not know which is his most recent determination, however I am inclined to go by the 1698 date. A 34-year-old man is far more likely to have four children living at home than a 57-year-old—assuming, of course, the validity of the Mennonite census listing.
To date I have found only one possible child for Jacob and Barbara (___) Huber:
Jacob Huber may have been—depending on the birth year—either the elder brother or father of Ulrich Huber of Conestoga. He may have been related to either or both Henry Huber's of Martic/Conestoga townships. If Joanne M. Hoover is correct in her assumptions, then Jacob, Ulrich, Henry (presumably the elder, d. ca 1757), Christian Huber of Heidelberg Township, York County, Pennsylvania, and Ann (Huber) Keny were all siblings as named in Christian's will.26 It is certainly a possibility. However, there were other men of these names living in York County to whom Christian's will might have been referring.
Jane Evans Best indicates that Jacob may have been the son of Hans Heinrich Huber and Barbel Suter, baptized 30 Jun 1698 in Hausen, Switzerland.27 If she is correct, this would make him the brother of one of the Henry Huber's of Martic/Conestoga township and possibly a cousin of Hans Huber of Earl Township and his son Jacob Huber who settled nearby in Martic (now Providence) township—just up the Pequea, in fact.