My great great grandfather Samuel Thomas Hoover was born on 18 February 1857, most likely in Jefferson County, Pennsylvania.1 He was the son of Christian and Caroline (Kinnard) Hoover.2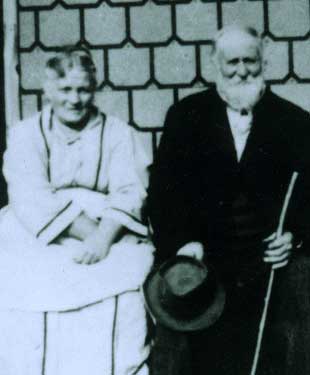 Sometime between February and September 1879, Samuel married Victoria Walker. She was born 9 September 1858 in Pine Glen, Burnside Township, Centre County, Pennsylvania.3 She was the daughter of Jacob and Mary (Eckley) Walker.
Samuel and Victoria made their home in Pine Glen. Census records list Samuel initially as a laborer, then as a farmer. In 1883, Samuel served as the administrator of his mother's estate after his elder brother Reuben refused.4 When their father died in 1887, Reuben and Samuel, and their brothers Simon and George, and young sister Eva Edith and her mother Mary Ann (Conaway) Hoover, sold their father's property in Covington Township, Clearfield County to George Boak.5
Samuel died on 18 August 1930 in Pine Glen of Bright's disease. He was buried in Advent Cemetery on 20 August 1930. His obituary read:
PINE GLEN: On Sunday night the death messenger entered the home of Mr. and Mrs. Samuel HOOVER and took with them the spirit of the father of the home. Mr. HOOVER has been sick for about three months, but was getting better, and on Sunday was feeling real well and enjoyed the family and grandchildren who were to see him, and remarking that he was feeling better and was in excellent spirit. But during the night  while the family was resting and Mrs. HOOVER, the mother of the home and his faithful nurse had retired, death came quickly and on awaking they found him dead, having slept [sic] away in the night. Mr. HOOVER was one of our oldest and respected citizens. He had lived in our community his entire life and was a well known farmer. He always took an interest in the township affairs and respected our schools and churches. He was about 72 or 73 years old and leaves his faithful helpmates who were: Victoria WALKER and two daughters, Mrs. Fountain LEWIS, of Snow Shoe; Mrs. Edward CRAMER, of Karthaus; Harry HOOVER, of Dubois; Clyde, William and Edward, of Pine Glen and Raymond at home. There are a number of grandchildren and two great grandchildren.6
Victoria died on 12 February 1938 in Pine Glen of a cerebral hemorrhage. She, too, was buried in Advent Cemetery on 15 February 1938.
Samuel Thomas and Victoria (Walker) Hoover had the following children:
Harris Grant Hoover was born 12 May 1882 in Pine Glen and died 18 July 1943 in Dubois, Clearfield County, Pennsylvania. He married Ida May Cramer, daughter of Lot and Lucy Dale (Gault) Cramer, in June 1903.
Minnie Belle Hoover was born in April 1884 and died in 1962. She was buried in Askey Cemetery in Snow Shoe. She married Fountain C. Lewis, son of Edward L. and Anna (Haines) Lewis in 1902.
Ida Mae Hoover was born in May 1885 and died in 1961. She was buried in Askey Cemetery. Ida married Edward H. Cramer, son of Lot and Lucy Dale (Gault) Cramer, in 1904.
Clyde Leroy Hoover was born on 30 October 1886 in Pine Glen. He died on 13 May 1972 in Karthaus, Clearfield County, Pennsylvania. He married Nora Melinda Houdeshell, daughter of George W. and Lovina Caroline (Force) Houdeshell, on 16 April 1908 in Dubois, Clearfield County, Pennsylvania.
Raymond Hoover was born 7 October 1888 in Pine Glen and died in 1960. He never married. Raymond served in the 314th Field Artillery, 80th Division during World War I. He was discharged from the Army on 7 June 1919.
William M. Hoover was born 17 April 1890 in Pine Glen. He died on 15 December 1964, also in Pine Glen. He married Edith Mae Meeker, daughter of William Henry and Carrie Amanda (Force) Meeker, in January 1912.
Edward Earl Hoover was born 22 June 1891 and died 17 March 1981. He married Genevieve Agatha Smith, daughter of Solomon and Ora B. (Smith) Smith, on 27 August 1913.
Lloyd Hoover was born on 15 April 1893 and died 12 July 1973 in Karthaus. He married Mary Ann Reese about 1915.
Clarence G. Hoover was born 24 March 1895 and died 1 April 1902 of hemorrhages.7
Cite This Page:
Kris Hocker, "Surname Saturday: Samuel Thomas Hoover," /genealogy the genealogy & family research site of Kris Hocker, modified 10 Nov 2012 (http://www.krishocker.com/surname-saturday-samuel-thomas-hoover/ : accessed 30 Aug 2015).
Content copyright © 2012 Kris Hocker. Please do not copy without prior permission, attribution, and link back to this page.