When I last wrote about Joseph Snyder, I was on the trail of his father and believed he was the same Henry Snyder whose mortgage indenture I had in my possession. The 1850 census for Henry Snyder of Upper Hanover Township included Henry, Sarah, Joel, Joseph, Louisa Anna, and Sophie Schnider.1 Although I can infer a relationship between the household members, it is not directly indicated in this record.
I also postulated that Joseph Snyder received his father's farm sometime before Henry's death. Based on the metes and bounds as outlined in Henry Snyder's mortgage, it sounded like the location of the farm that I've always known as the "Greulich farm" which was located just outside East Greenville in Upper Hanover Township, diagonally opposite the New Goshenhoppen Church. Since I have two deeds—one for Henry Snyder's farm and one for the farm my great great grandfather Henry Deischer Snyder purchased from his father's estate—I figured I would compare the metes and bounds to determine once and for all if they were the same farm.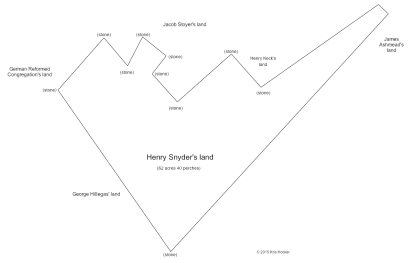 Henry Snyder (1830)
Henry Snyder purchased 62 acres from Jacob Stoyer, the administrator of Godfrey Wissler's estate.2 Godfrey Wissler was Henry's father-in-law.3
Henry and Sarah Snyder sold pieces of this land in 1839 (to Peter Strunk4) and 1850 (to George Gery5 and George Seasholtz6). These sales totaled about 7 acres.
Henry D. Snyder (1899)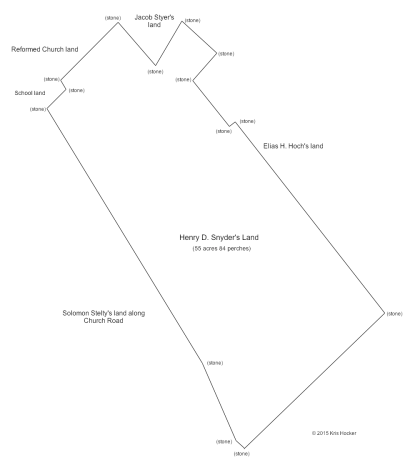 Joseph Snyder died in 1895. His sons Henry D. and Amandus D. Snyder served as executors of his last will and testament, proven 7 December 1895, which required that his land be sold and the proceeds divided into seven equal shares and divided amongst: Henry, Irwin, Clement, Amandus, Mary, Sally, and Ida.7 On 1 April 1899, Henry and Amandus sold 55 acres to Mahlon Snyder.8 On 1 July 1899, Mahlon and his wife Clara sold 55 acres to Henry D. Snyder, except 40 square perches that Henry and Amandus sold to the Upper Hanover school district.9
The northwest sections of these maps, I believe, are a very close match—likely with miscellaneous additions to and subtractions from the original tract between 1839 and 1899.
This farm was in Henry's possession until his death in 1931 when it passed to his only child Lillian Witmer (Snyder) Greulich. It passed to her only child, Russ, after her death in 1949. The remains of the house and farm buildings can be seen on Google Maps' satellite image along School House road, up to the corner with Third Street and Church Road.
Joel and Joseph Snyder
On 13 May 1861, the spring following Henry Snyder's death, Joel Snyder and his wife Catharine and Joseph Snyder and his wife Judith sold a piece of land in East Greenville to Lucianna Mock, widow, and Sophia Schneider, spinster.10 This deed states that Henry Schneider died intestate with four children: Joel, Joseph, Lucianna intermarried with Peter Mock (now deceased), and Sophia, and that Joel and Joseph had agreed to sell the plot to their sisters.
Evidence doesn't get much clearer than this. Joel, Joseph, Lucianna, and Sophia were the children of Henry Schneider of Upper Hanover Township. Thus, the 1850 census entry for Henry shows him, his wife, and their children.
Either Henry sold his farm to Joseph prior to his death or Joseph's siblings sold it to him after his death. I haven't found a deed or other reference to this transfer, but the deed maps show that the land Joseph's sons sold after his death contain at least part of the original land that Henry Snyder purchased in 1830 from his father-in-law's estate. In 1860, Joseph owned $5000 worth of real estate11, his father only $150012, and brother only $1,000.13 Joseph was a farmer in 1860, and this—with the value of his real estate—indicates to me that he already owned a farm by 1860. It seems probable that it was his father's farm.
Addendum
In looking for the photo I've used as the feature image for this post, I found a treasure trove of family deeds. Check in next time to see what they tell me.