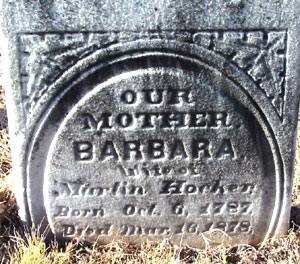 Barbara (SMITH) HOCKER, wife of Martin HOCKER, was born 6 Oct 1787 and died 16 Mar 1878 in Derry Township, Dauphin County, Pennsylvania. She was buried in the Zion Evangelical Lutheran Church cemetery in Hummelstown. She married Martin HOCKER in 1809.
Cite This Page:
Kris Hocker, "Tombstone Tuesday: Barbara Smith HOCKER (1787-1878)," /genealogy the genealogy & family research site of Kris Hocker, modified 25 Dec 2010 (http://www.krishocker.com/tombstone-tuesday-barbara-smith-hocker-1787-1878/ : accessed 29 Mar 2015).
Content copyright © Kris Hocker. Please do not copy without prior permission, attribution, and link back to this page.