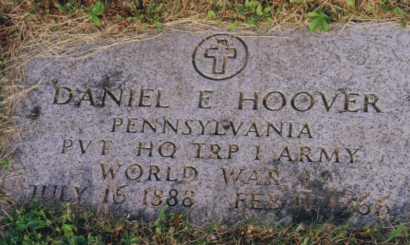 A gravestone photo of Daniel Edgar Hoover, only son of Reuben and Emma (Coleburn) Hoover, of Karthuas, Clearfield County, Pennsylvania, was born 16 Jul 1887 and died 11 Feb 1966. He was buried in the Oak Hill Cemetery in Oak Hill, Karthaus Township, Clearfield County, Pennsylvania. Daniel served during World World I.
Cite This Page:
Kris Hocker, "Tombstone Tuesday: Daniel E. Hoover (1887-1966)," /genealogy the genealogy & family research site of Kris Hocker, modified 28 Jun 2011 (http://www.krishocker.com/tombstone-tuesday-daniel-e-hoover-1887-1966/ : accessed 30 Aug 2015).
Content copyright © 2011 Kris Hocker. Please do not copy without prior permission, attribution, and link back to this page.