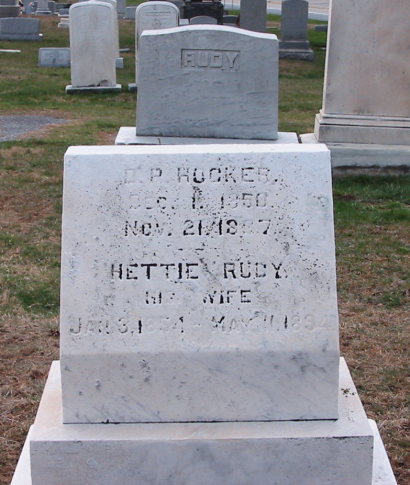 Dr. David R. Hocker, son of Adam and Eve (Hamaker) Hocker, was born 1 Dec 1850 and died 21 Nov 1887. He was buried in Shoop's Cemetery, Lower Paxton Township, Dauphin County, Pennsylvania. He married 4 Feb 1876 in Shoop's Reformed Church Hettie Esther Rudy, daughter of Joseph Frederick and Hettie (Landis) Rudy. She was born 3 Jan 1854 and died 11 May 1894.
Cite This Page:
Kris Hocker, "Tombstone Tuesday: Dr. David Hocker (1850-1887)," /genealogy the genealogy & family research site of Kris Hocker, modified 16 May 2011 (http://www.krishocker.com/tombstone-tuesday-dr-david-hocker/ : accessed 30 Aug 2015).
Content copyright © 2011 Kris Hocker. Please do not copy without prior permission, attribution, and link back to this page.