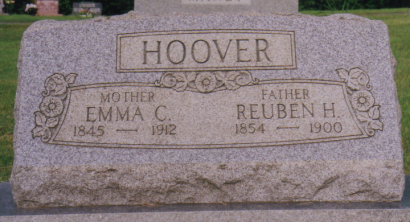 Reuben Hart Hoover, eldest son of Christian and Caroline (Kinnard) Hoover was born in 1854, probably in Jefferson County, Pennsylvania, and died 5 Mar 1900 of consumption. He married about 1875 Emma Clara Coleburn, born Mar 1845 and died 12 Sep 1912. They are both buried in Oak Hill Cemetery, Karthaus Township, Clearfield County, Pennsylvania.
This couple had 6 children: Caroline Elizabeth (1876-1938), Sarah Victoria (1877-1959), Mary Jane (1879-1943), Lucretia Irene (1882-1961), Martha Priscilla (1885-1970), and Daniel Edgar (1887-1966).
Cite This Page:
Kris Hocker, "Tombstone Tuesday: Reuben and Emma Hoover," /genealogy the genealogy & family research site of Kris Hocker, modified 17 Jan 2013 (http://www.krishocker.com/tombstone-tuesday-reuben-and-emma-hoover-2/ : accessed 29 Aug 2015).
Content copyright © 2013 Kris Hocker. Please do not copy without prior permission, attribution, and link back to this page.