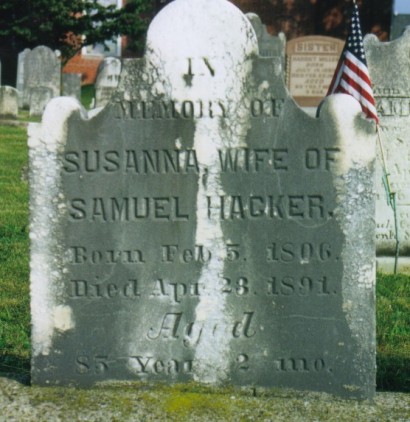 Susanna GSELL was born 5 Feb 1806 in Pennsylvania, most likely in Lancaster county. She married Samuel HACKER, son of Frederick and Catharina (FUCHS) HACKER, about 1824/5. She died 23 Apr 1891 in Ephrata township, Lancaster county, Pennsylvania at age 85 years, 2 months and 18 days. She was buried with her husband in the Emanuel Lutheran Church Cemetery in Brickerville, Warwick township, Lancaster county, Pennsylvania.
Cite This Page:
Kris Hocker, "Tombstone Tuesday: Susanna HACKER (1806—1891)," /genealogy the genealogy & family research site of Kris Hocker, modified 25 Dec 2010 (http://www.krishocker.com/tombstone-tuesday-susanna-hacker-1806%e2%80%941891/ : accessed 2 Sep 2015).
Content copyright © 2010 Kris Hocker. Please do not copy without prior permission, attribution, and link back to this page.