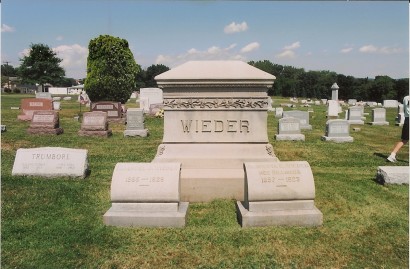 Emanuel J. Wieder was born 11 Nov 1855 in Lehigh County, Pennsylvania, youngest son of Saulus and Anna (Mechling) Wieder. He died 26 Jul 1929 and was buried 30 Jul 1929 in St. Mark's Union Cemetery in Pennsburg, Pennsylvania. He married Alavesta Esther Dillinger on 10 Jun 1878 in Upper Saucon Township, Lehigh County, Pennsylvania. She was born 19 Oct 1857 in Lehigh County, daughter of William and Helena (Person) Dillinger. She died 11 Jan 1923 and was buried 16 Jul 1923 in Pennsburg.
The couple had three children who are also buried in the plot with their spouses: Edwin Joshua Wieder (1880-1960) and his wife Mary Catharine Waage (1877-1970), Cora Anna Wieder (1886-1964) and her husband Vallandingham S. Trumbore (1883-1968), and John William Wieder (1887-1972) and his wife Katharine Jane Greulich (1887-1960).
Cite This Page:
Kris Hocker, "Tombstone Tuesday: E.J. & Alavesta Wieder," /genealogy the genealogy & family research site of Kris Hocker, modified 1 Sep 2010 (http://www.krishocker.com/tombstone-tuesday-wieders/ : accessed 28 Aug 2015).
Content copyright © 2010 Kris Hocker. Please do not copy without prior permission, attribution, and link back to this page.