Last week's article for the "Along the Pequea" series, traced the land transactions of Hans Line's property. This week, we'll follow the transactions of his neighbor, Ulrich Huber.
Ulrich Huber first appears in Conestoga in the 1728 survey of his Conestoga plantation (see figure 1).1 John Taylor surveyed 226 acres, adjoining John Line, John Dehoof, and Jacob Hoober.  However, we can presume he was in Pennsylvania by 1718. He was naturalized with a large group of Mennonite settlers in 1729 who had "transported themselves and estates into the province of Pennsylvania between the years one thousand seven hundred and one thousand seven hundred eighteen." 2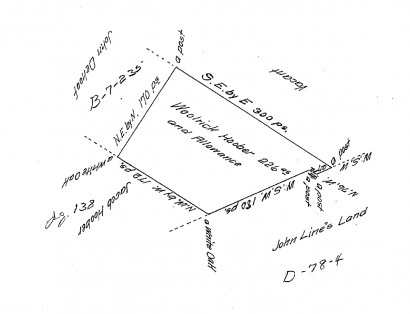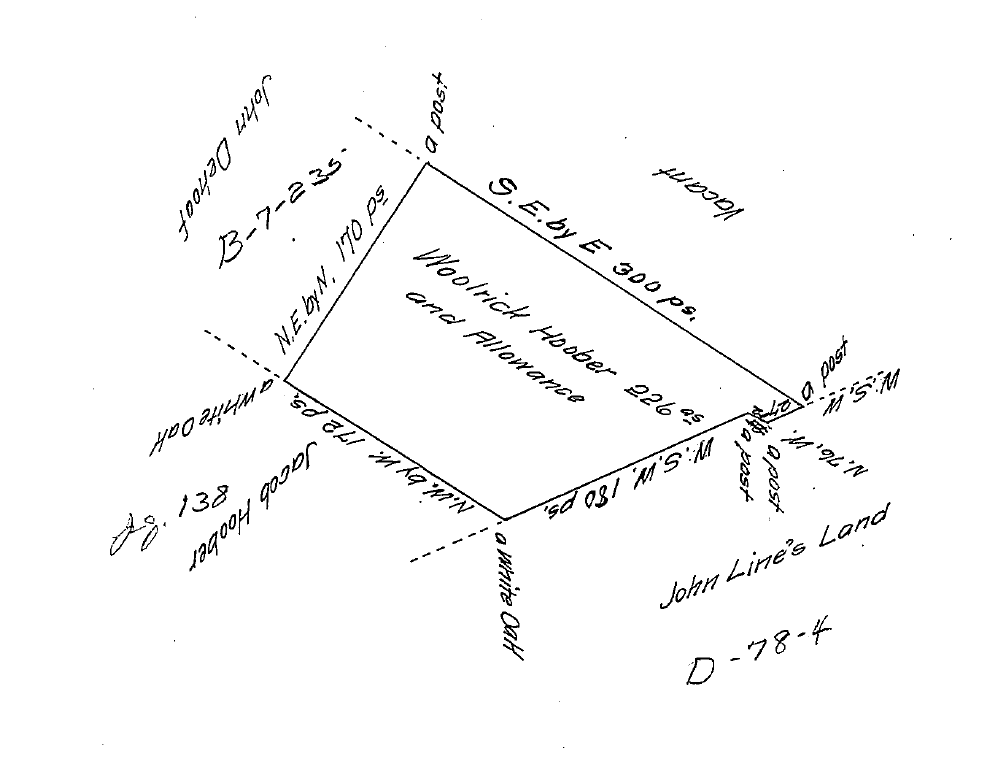 Ulrich received a warrant for this property 19 Sep 1744.3 He patented the tract either 19 or 20 Sep 1744.4 He was taxed for property in Conestoga in 1751 and 1754.5
On 16 Nov 1750, Ulrich sold 15 acres to his neighbor Michael Hess.6 On 7 Dec 1754, Michael and Barbara Hess sold their 15 acres from Ulrich to Michael Harnis[h].7 I found no subsequent deed of sale from Michael Harnish for this 15 acres. However, when Ulrich's tract was sold to John & Henry Brenneman in 1791, it included the entirety of the tract patented to Ulrich Huber.
Ulrich died prior to 18 May 1757.8 On 23 Jun 1759, his heirs—Jacob & Barbara Hover, Henry & Anna [Hover] Shank, Jacob & Maria [Hover] Boyer, Elizabeth Hover, Ulrick Hover and Henry Hover—transferred the land to the eldest son John Hover, witnesses were [Christian?] Line and Michael Shank.9
John and Mary, his wife, held on to this property for nearly a decade before selling it to Melchor and Ann (Good) Brenneman on 10 Oct 1767.10 The Brenneman's held onto the land until 1783 when they sold it to their daughter and son-in-law John and Eve Bowman on 22 Mar.11 Eight years later, John and Eve (Brenneman) Bowman sold the property to her brothers John and Henry Brenneman.12
John and Henry apparently partitioned the property. John and Catharine Brenneman sold their 113 acres, adjoining Jacob Smith, John Good, George Rathvon, Christian Line, and Abraham Huber, to Henry Zercher on 7 May 1794.13 Zercher later died intestate and John Brenneman bought back the property on 10 May 1806 when Zercher's heirs refused the land at it's appraised price.14 John and Catharine then sold the tract to Jacob Heidelbach on 12 May 1806.15
Footnotes
Woolrich Hoober survey (1728), Pennsylvania Copied Survey Book D88:127, Pennsylvania State Archives, Records of the Land Office, Records Group 17, Copied Surveys, Series #17.114, Harrisburg, Pennsylvania ↩
Eshleman, H. Frank, Historic Background and Annals of the Swiss and German Pioneer Settlers of Southeastern Pennsylvania, and of Their Remote Ancestors, from the Middle of the Dark Ages, Down to the Time of the Revolutionary War (Lancaster, PA: self-published, 1917), page 232 ↩
Warrant Registers, Records of the Land Office, Pennsylvania State Archives, Records Group 17, Series #17.88, Lancaster County Register, page 93 ↩
Warrant Registers, page 93 or Pequea Township Map (Lancaster County), Warrantee Township Maps, Pennsylvania State Archives, Records of the Land Office, Records Group 17, Series #17.522, Harrisburg, Pennsylvania ↩
Hawbaker, Gary T. and Clyde L. Groff, A New Index: Lancaster County, Pennsylvania Before the Federal Census, Volume 3 Index to the 1750 Tax Records (Hershey, Pennsylvania: privately published, 1982) ↩
Michael Hess & ux to Michael Harnish (1754), Lancaster County Deed Book D:411 (online), Recorder of Deeds; This deed stated that 326 acres were warranted to Ulrick Hoover. ↩
Hess to Harnis (1754), Deed Book D:411 ↩
Hoover, Joanne M., "Hoover Three Generations: An Update," Mennonite Family History, Oct 2005, p.144-149; The inventory from his estate was filed 18 May 1757. ↩
Jacob Hover et al to John Hover (1759), Lancaster County Deed Book H: 92-93 (online), Recorder of Deeds ↩
John Bowman & Ux to John & Henry Brenneman (1791), Lancaster County Deed Book PP:730 (online), Recorder of Deeds ↩
John Bowman & Ux to John & Henry Brenneman (1791), Lancaster County Deed Book PP:730 ↩
John Bowman & Ux to John & Henry Brenneman (1791), Lancaster County Deed Book PP:730 ↩
John Brenneman & wife to Henry Zercher (1794), Lancaster County Deed Book SS:126 (online; image 135), Recorder of Deeds ↩
Henry Zercher Dec'd Admors. to John Brenneman (1806), Lancaster County Deed Book T3:672 (online), Recorder of Deeds ↩
John Brenneman & wife to Jacob Heidelbach (1806), Lancaster County Deed Book T3:678 (online), Recorder of Deeds ↩