Archives by date
You are browsing the site archives by date.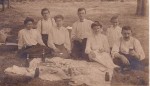 I found this photo among the Greulich family photos. The dark-haired couple on the left is Elmer and Lillian (Snyder) Greulich.  I'm not sure who the others are, but I believe they are relatives of Elmer.
Orvis Maxwell Rowles was the son of Luther and Anna Belle (Houdeshell) Rowles. He was born 3 Apr 1922 and died 20 Dec 1994.
The children of Nora (Hoover) Rice. From left to right: Richard, Mary, John, Marjorie, Joseph, Beverly, William and David Photo courtesy of: Beverly Christensen.
Nora and Sherman Hoover were the son and daughter of Simon Edward and Ida Christine (Watson) Hoover. Nora was born in 1902 and Sherman in 1905, both in Davis, West Virginia. Photo courtesy of: Beverly Christensen.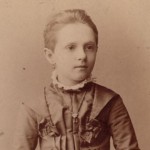 Mary Catherine Waage, daughter of Dr. Charles Theodore and Lydia S. (Eshbach) Waage, was born 27 Oct 1877 in Pennsburg, Montgomery county, Pennsylvania. She married Edwin Joshua Wieder.
Mary Louisa Hocker, daughter of Johannes and Elizabeth (Henry) Hocker, married Samuel Hoch/Hoke 22 Nov 1860. She was born circa 1840/42 in Hockersville, Dickinson Township, Cumberland County, Pennsylvania. Photo courtesy of Elizabeth Hoke
I  labeled this photo Mary and Ethel Hocker. Ethel Hocker was the daughter of Albert Curtin and Lillian (Leedy) Hocker. She married twice, first to Harry Thomas Allen and second to Wesley Edward Foster, Jr. I am presuming the Mary Hocker refers to Mary (Curran) Hocker, wife of Levi Ainsley Hocker and Ethel's sister-in-law.
Martin Luther Hocker, son of Johannes and Elizabeth (Henry) Hocker, married Mary Ann Brindle 17 Oct 1850 in Carlisle, Pennsylvania. The couple later moved to Bourbon County, Kansas. Photo courtesy of Elizabeth Hoke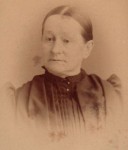 Lydia (Eshbach) Waage, daughter of Henry M. and Catherine Lydia (Bobb) Eshbach, married Dr. Charles T. Waage 29 Aug 1877. The couple had one daughter Mary Catherine Waage.
Lovina (Force) Houdeshell, wife of George W. Houdeshell, and her daughter Nora Melina (Houdeshell) Hoover, wife of Clyde Hoover.