Archives by date
You are browsing the site archives by date.
Have your really proven your ancestry? Finding information online is great, but should only be considered a first step. To prove your ancestry you need to verify sources and references. Rootsweb Review has a good article on how.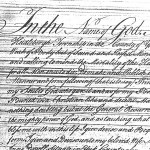 Christian Hoover of Heidelberg Township, York County wrote his last will & testament on 15 Feb 1771; it was proven on 21 Mar 1771. His wife Mary was his executor. This is a transcription of his will.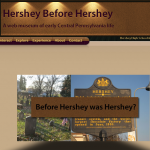 Trolling about the internet following leads, I came across a site with some fantastic tools for those researching ancestors from Derry Township, Dauphin County, Pennsylvania. The site—Hershey before Hershey—is a collaboration between Hershey High School and the Hershey/Derry Township Historical Society in Hershey, Pennsylvania.
Here's my bit of wisdom for a Wednesday: don't stop your research into a document at the abstract. Find the full document.
Jacob and Catharine Ritter had nine children who all died between 1834 and 1852, none older than 2 years. They—and other family members—were all buried in the family cemetery on the family farm. Unfortunately, no one is quite certain where the cemetery was located. In June construction crews working on a development in Penn Township,… read more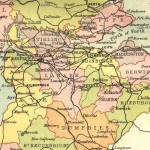 In looking for information about Roxburghshire, Scotland I came across the FamilySearch Wiki information on Scotland. This site includes information on all the Scottish counties, including information on available records (census, court records, civil registration, etc.), maps, and its parishes. The parish pages will tell you about the records available for that parish, including church… read more
One of the joys of browsing other genealogy blogs—besides getting ideas on how to organize information, which always intrigues the designer in me—is finding new goodies to help my research. So, hat's off to Kathleen Moore for finding and posting two helpful maps of Scotland in her blog "The Misadventures of a Genealogist". The first… read more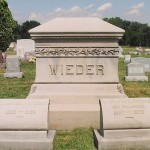 Emanuel J. Wieder was born 11 Nov 1855 in Lehigh County, Pennsylvania, youngest son of Saulus and Anna (Mechling) Wieder. He died 26 Jul 1929 and was buried 30 Jul 1929 in St. Mark's Union Cemetery in Pennsburg, Pennsylvania. He married Alavesta Esther Dillinger on 10 Jun 1878 in Upper Saucon Township, Lehigh County, Pennsylvania…. read more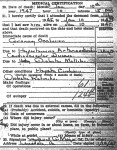 We've all heard how diseases can now be predicted by blood tests that search our DNA for specific markers, thus proving that a lot of the most common ailments run through our family lines. Tracing your family's medical history for illnesses that have affected your parents, grandparents and other relatives can tell you something about… read more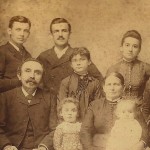 I've started uploading additional images to a new set of pages in the Galleries section of this site. The first new page is a family photos page for the Greulich family. It includes family portraits from 1887, 1901, 1929, and 1941/2, starting with a family portrait of the Karl Philipp and Caroline K. (Wolf) Greulich… read more