Archives by date
You are browsing the site archives by date.
One of the pieces of data I have for Andrew Hoover Jr. has intrigued and perplexed me. During her research in this Hoover family, Luella Schuamburg Hoover was sent a deed from Lancaster County, Pennsylvania in which Andrew named Yost Herbaugh as his attorney to receive from Catherine Liebrich, relict of Nicholas Liebrich, late of… read more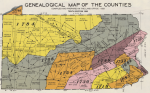 If you do genealogy, then you've got to love maps. Maps can help get you oriented, organized and straightened out when the research—and all the little bits of data you've collected—gets confusing.  Say you find records under the same name, but in different townships. A map can help you to decide whether the records are… read more
This spring is the TV season for the genealogy buff. There are two new programs for family historians to enjoy on television: Faces of America and Who Do You Think You Are?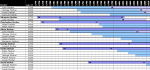 If you're a fan of Ancestry.com on FaceBook, you may have seen the postings about creating a census checklist to track your ancestors through the census records. Since people have been sharing theirs, I thought I'd share, too. I don't know if you've found this to be true in your family (bet you have!), but… read more
I'm always looking for new ways to research my family. Living in New England, I'm a long way away from sources of Pennsylvania information. So, I especially love to find FREE sources of information ONLINE. The Pennsylvania Historical & Museum Commission and State Archives usually have something good. In the past I've used the online… read more
What are census substitutes and what information can they provide?
Jacob Hacker was born 28 Sep 1803 and died 26 Jul 1873 in Lancaster County, Pennsylvania. He was buried in the Emanuel Lutheran Church cemetery in Brickerville, Pennsylvania. He married about 1841 Maria "Polly" Krieg, daughter of John Elias and Anna Maria (Gibbens) Krieg.
If you recall from my post Hoover Families in Licking County, Ohio I was especially interested in John and Barbara Hoover of Franklin and Newark Townships. John was of interest to me because the census information indicated that he was of the appropriate age to be my John2 Hoover (Andrew1). A review of the Revolutionary… read more
Did you know that you can view Lancaster County deeds from 1729 through 1981 online? You can! Visit the Lancaster County Recorder of Deeds to use their online e-film reader to view digital versions of the deed books.
A list of Hubers and Hoovers from the Lancaster County Deed Books (1729—1893), covering first names starting with R—W.