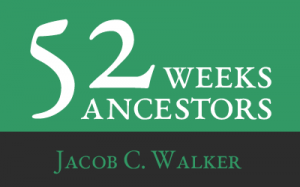 Jacob Walker was born 3 November 1833 in Runville, Boggs Township, Centre County.1 He died 24 July 1915 of "parenchymatous nephritis" in Centre Hall, aged 81 years, 8 months and 21 days. He was buried 27 Jul 1915 in the Reformed and Lutheran cemetery in Centre Hall. According to his obituary, he was the son of George and Ellen Walker.2 However, I believe Jacob was the son of George and his first wife, Catharine.3
Jacob was a farmer and made his home in Pine Glen, Burnside Township, Centre County, Pennsylvania. In 1854,4 he married Mary Eckley, daughter of John D. and Catharine (Walker) Eckley.5 Mary was born 8 July 1836, quite likely in Boggs Township, and died 18 July 1911 in Centre Hall of breast cancer. She was buried with her husband in the Reformed and Lutheran cemetery in Centre Hall.
Jacob and Mary had 10 children:
Susanna Walker (1856-1910) married Nicholas Vallimont
Victoria Walker (1858-1938) married Samuel T. Hoover
Henrietta Walker (1860-1862)
Benner Walker (1861-?) married Viola "Ollie" White
Jackson S. Walker (1863-1947) married Mary (___)
Simon C. Walker (1864-aft 1920) married Emma Bell (___)
Nancy Jane Walker (1867-1906) married Henry Lee Borger
Lucy Walker (1868-?) married John Eisele
William Walker (1872-aft 1930) married Hattie Malone
Ada Bell Walker (1874-1892)
Jacob and Mary (Eckley) Walker are my 3x great grandparents.
---
This post is part of an ongoing, blogging challenge entitled 52 Ancestors in 52 Weeks, created by Amy Crow of No Story Too Small. Participants must write about one ancestor every week. This is my seventeenth 52 Ancestors post and part of week twenty-seven.