I wrote about Michael Frantz of Lower Paxton Township in an earlier post, regarding his estate in 1797. Based on that research, I posited that Michael possibly had two brothers—Jacob Frantz of Manor Township and Christian Frantz of  Manheim Township. They were the administrators of his estate and guardians of his minor children. So, I set out to learn more about Michael, Jacob and Christian to see if I could prove a family connection.
Michael Frantz
When he died, Michael was of Paxton Township. Working backward, I found a number of deed transactions for him. On 23 June 1793, Michael and Franey his wife sold seven acres and sixty-seven perches of land to Susanna Eaglea.1 This was part of two tracts of land purchased by Michael Frantz and John Nissley on 15 April 1790 from Samuel and Joseph Hutchinson.2 On 19 August 1790, Michael and John Nissley had divided the land they'd purchased from the Hutchinsons into two tracts of 187 acres.3 All of these deeds place Michael in Paxton Township.4
After Feronica's father, John Nissly, died in 1789, the couple acknowledged the receipt of £300—£185 during his lifetime and £115 from his executor, Michael Nissley.5 At the time, the couple was recorded as being "of Londonderry in the County of dauphin." Michael was taxed at Londonderry in 1787, 17866, 17807, and 1779.8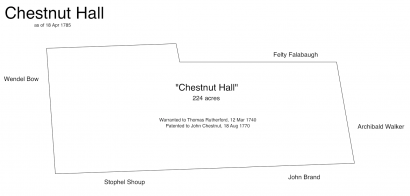 Deed records show that Michael Frantz purchased "Chestnut Hall," a tract of 224 acres then located in Derry Township, on 18 April 1785 from Hans and Catharina Frantz of Manor Township.9 The deed does not specify any relationship between Michael and Hans and his wife.
However, when Michael and his wife Feronica sold this land on 6 May 1790 to George Myer, the deed named Michael as "one of his [Hans'] sons and one of the parties hereto belonging."10 Hans had purchased this tract from John and Catharine Chestnut on 8 May 1775.11 The fact that Michael was taxed in Londonderry in 1779 and 1780—before he bought it—may indicate that he was living and working this land by then, even though his father still owned it.
According to a biography of Michael A. Frantz, Michael's grandson, Michael was "born in Lancaster County, Pennsylvania and in early manhood removed to Dauphin County, where he purchased a tract of land… He was highly esteemed in the community and spent the remainder of his life there."12 This is consistent with the deed research.
Based on this deed research, Michael Frantz was most likely the son of Hans Frantz of Manor Township. Did Hans have sons named Jacob and Christian? Check in next week as the research continues.