A little while back I did a series of posts about Christian Hoover of Heidelberg Township, York County, including a transcript of his inventory and the clues—or lack thereof—found in his wife's probate file. Yesterday while researching the estate of Henry Küny (aka Keuny, Kuny, Kiny, Keiny, Keny), presumably the husband of Christian's sister Ann, I came up with a new theory.
Let's start with Christian's will. In it he states: "and whereas Johannes Keny son of my Sister Ann is Justly indebted to me in the Sum of Nine Pounds Ten shillings it is my Will that he pay unto my Executrix the Sum of six Pounds part there of and unto his Brother Henry Keny the sum of one pound fifteen shillings also part thereof and the remaining Sum of one pound fifteen shillings I do bestow unto himself."1
Christian does not name his sister's husband, just her sons Johannes and Henry. Information I found online named Henry Keuny of Germany Township as the husband of Ann Huber. And indeed this Henry had a wife named Ann and sons named Johannes and Henry.2 Seems like a match, right?
And here's the rub. At an Orphans Court on 26 Mar 1782, Ann Keiny petitioned the court for guardians for her children "John Keiny aged thirteen and upwards and Anna aged nine years and upwards and Henry aged seven years and upwards, and Barbara aged four years and upwards, and Jacob aged about eleven months."3 John, son of Henry and Ann Keuny, would have been three years old in 1771 when Christian wrote his will; their son Henry wouldn't have been born yet! How can a three year old be indebted to his uncle? And was Christian a psychic to know Ann would have a son named Henry about four years after his death?
The answer, of course, is that it's not really possible that Christian was referring to the children of Henry Küny of Germany Township in his will. Here's where my eureka moment comes in. I believe that Christian was referring to Henry Küny of Germany Township as his sister's son in his will. So, where's Henry's brother, Johannes Küny?
John Küny of Germany Township was named guardian of Henry and Anna Küny's children Magdalena, John, Anna, Henry, Barbara, and Jacob. So, there was both a Henry Küny and a John Küny, most likely a relative and quite possibly his brother, living in Germany Township. Both John and Henry Kiny are listed in the 1779 and 1780 tax lists for Germany Township.4 Henry Küny died in 1781 and only John Kenney and the Widow Kenney are listed in the 1781 tax list for Germany Township.5
At an Orphans Court on 30 Nov 1790, "Henry Keeny aged fifteen years and upwards" petitioned the court for a new guardian, as did "Henry Danner, Executor of the Last Will and Testament of John Keeny deceased," on behalf of Barbara and Jacob Keeny.6 So, John Küny died in 1790.
A search of the Pennsylvania probate records on FamilySearch.org shows John Küny of Germany Township wrote his last will and testament on 16 Jan 1790. It was proven on 4 Jun 1790. It named his wife Anna, only daughter Anna, wife of Adam Gissler, granddaughter Magdalena Gissler, grandson John Gissler, and niece and nephew, Barbara and Jacob Küny, children of his brother Henry.7 Henry Danner and John Kehr were named as his executors. The will was witnessed by George Miller, John Thomas and John Summer.
So, Henry and John Küny of Germany Township were, in fact, brothers. What else can we learn about them?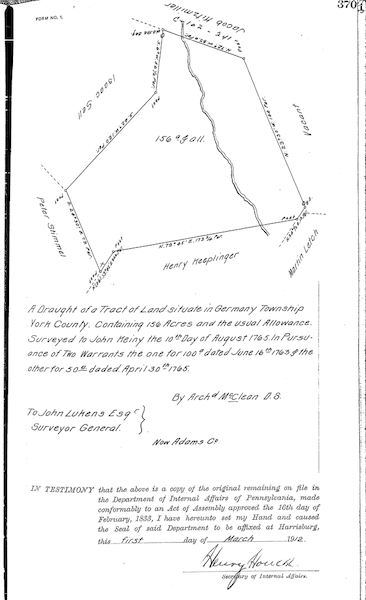 John Küny (as Kieny) warranted a tract of land containing 100 acres in Germany Township on 16 Jun 1763 and a tract of 50 acres on 30 Apr 1765.8 The tracts were surveyed on 10 Aug 1765.9 This means that John was in York County by Jun 1763 at the latest. I found no warrants or patents for Henry Küny though the tax lists indicate he owned 100 acres in Germany Township.
A Johannes Küny arrived in Philadelphia aboard the ship Brothers on 30 Sep 1754.10 Also onboard were a Jacob Huber and a Christian Huber—relatives, perhaps?11 A Henrich Küny arrived aboard the ship Myrtilla on 21 Sep 1765.12
What does this mean for researching Christian Huber? To be  entirely honest, I'm not exactly sure. I believe it makes it more likely that Christian—and apparently his brothers, too—were immigrants, not first-generation Americans. Although that's always a possibility in colonial research, 1749 is late enough that Christian's parents might have been early immigrants.
Since Johannes and Henry Küny were presumably immigrants, born in Europe, finding their parents in Europe may also provide the location of Christian Huber's birth. That, in turn, may provide additional information on his brothers that helps me to identify them in Pennsylvania. At least, that's what I'm hoping.