Scientists used to think that blue-eyes were introduced to Europe by farmers who arrived late to the continent. New research shows that the genes responsible for blue eyes may have already been there amongst dark-skinned hunter-gatherers.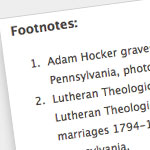 In my recent travels around the web, reading genealogy blogs, I've seen a number of articles about whether or not blog writers should cite their sources. There have been numerous thoughtful, articulate posts written for both sides of the subject. I'm not going to take a stance on what blog writers must do. Instead, I'll just tell you why I've decided to use source citations.
Announcing the release of my new book Marriage and Death Notices from the Harrisburg Chronicle, 1820-1834. This book is a follow-up and continuation of my previous book Marriage and Death Notices in Harrisburg Area Newspapers, 1835-1845.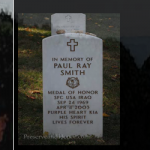 A teenager named Ricky Gilleland has created a digitized record of the graves of Afghanistan and Iraq veterans buried at Arlington National Cemetery. His website—Preserve and Honor—allows you to enter the name, branch of service, date of birth and date of death of the fallen to search for their gravestone and burial location. The results… read more
Almost 100 years ago on March 25th a factory fire in New York claimed 146 lives. The fire led to changes building codes, labors laws, union formations and politics. Now the final six unidentified victims have been identified.
Researchers have determined that somewhere between 1% and 4% of the human Eurasian genome is Neanderthal. It has always been believed that Homo Sapiens and Neanderthal were separate lines of descent from a common ancestor. So, how is it that we carry some of the same DNA? "The most likely explanation, say the researchers, is… read more
Jacob and Catharine Ritter had nine children who all died between 1834 and 1852, none older than 2 years. They—and other family members—were all buried in the family cemetery on the family farm. Unfortunately, no one is quite certain where the cemetery was located. In June construction crews working on a development in Penn Township,… read more
The article "Blue-eyed humans have a single, common ancestor" in the Innovations Report states that: "New research shows that people with blue eyes have a single, common ancestor. A team at the University of Copenhagen have tracked down a genetic mutation which took place 6-10,000 years ago and is the cause of the eye colour… read more
So, you may be asking yourself, what's with this site? What is all this stuff?