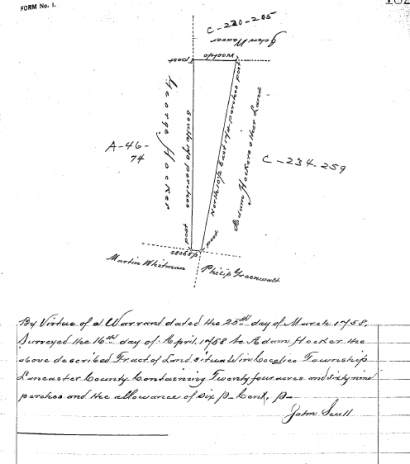 This is the land warrant for one of Adam HACKER's properties in Cocalico township, Lancaster county, Pennsylvania. I originally found it at the Lancaster County Courthouse, but you can also find the warrant indices and copied Warrant book online at the Pennsylvania State Arcives website.
I also found records for George HACKER, Adam's brother; Martin WEIDMAN, Adam and George's father-in-law; and Lawrence HOUSEHOLDER, Adam and George's brother-in-law, in Lancaster county. In Fayette county, I found records for Andrew HOOVER, Jacob HOOVER, and George HOOVER, sons of Andrew HOOVER Sr.; and William KERNS, George HOOVER's son-in-law. Armstrong county records yielded the warrants for Christian and Philip HOOVER, son and grandson of George HOOVER.
Cite This Page:
Kris Hocker, "Friday Finds: Adam HACKER's Land Warrant," /genealogy the genealogy & family research site of Kris Hocker, modified 1 Sep 2010 (http://www.krishocker.com/friday-finds-adam-hackers-land-warrant/ : accessed 30 Aug 2015).
Content copyright © 2010 Kris Hocker. Please do not copy without prior permission, attribution, and link back to this page.