For some reason I got stuck on John Hoover today when I was deciding where to start on my Huber/Hoover work. Which John Hoover, you ask? I was hoping to find information on John Hoover (Huber), son of Hans Ulrich (Woolerick) Huber of Conestoga Township, Lancaster County, Pennsylvania.
I don't have much information on him. I believe he may have been born in Lancaster County, Pennsylvania circa 1726. He purchased land from his father's estate from his siblings—Jacob Hover and Barbara his wife, Henry Shank and Anna his wife, Jacob Boyer and Maria his wife, Elizabeth Hover, Ulrick Hover and Henry Hover all of Pennsylvania—in 1759.1 I had seen the possibility that this John Hoover was also the John Hoover of Necessity, Maryland alluded to on a message board and wanted to see if I could find evidence in the data I've acquired.2
So, I was looking at deeds and land patents for John Hoover for leads. John Hoover of Necessity was in Maryland by 1769 when he received a deed for "Harry's Grove" from the David Watson estate at the request of Michael Miller, to whom it had been sold but who had not received a deed. 3 If John Hoover of Necessity was the son of Ulrich Hoover of Conestoga Township, then he would have had to have sold his Lancaster property at or before 1769.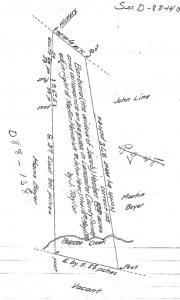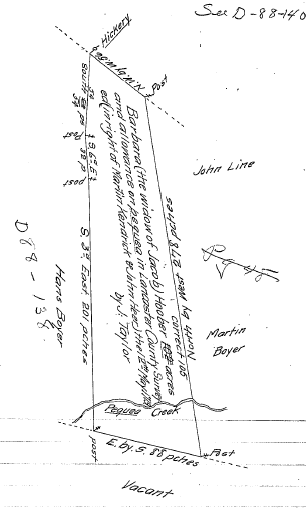 I did not find any deeds for John Hoover selling land in Conestoga (now Pequea) Township. I found a deed for John Hoover purchasing land in Conestoga Township. On 28 May 1754, John Hoover purchased 110 acres on Pequea Creek from Jacob Eshleman and Pebela his wife.4 There were several land patents for John Hoover in the same general area—one for 105 acres adjoining Ulrich Hoover's tract in Martic (now Providence) and Conestoga Townships and another for 25 acres in Conestoga Township.
Figuring the land adjoining Ulrich's was the best bet, I followed up on that first. This tract—although patented to John Hoober—had first been the land of Jacob and Barbara (___) Hoober from Martin Kendig. 5,6 It was sold by John's heirs—Jacob Hoover and Margaret his wife, John Hoover, Henry Hoover and Mary his wife, Christian Hoover, Peter Hoover, Anna Brenneman, Frena Hoover, and Barbara Hoover all of Lancaster County—to their brother Abraham Hoover in 1785.7 So, this may not be the John Hoover I'm looking for.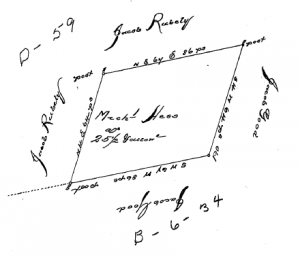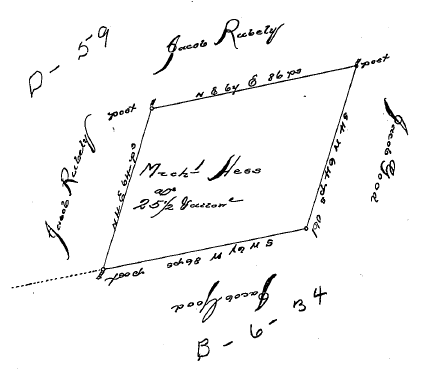 Next I looked at the land patent for the 25 acres in Conestoga Township patented to John Hoover in 1752.8 Looking at the survey, I was confused. I saw no reference to it being for John Hoover. This tract was apparently patented to Michael Hess in 1744. Had I made a mistake? I double checked the index and looked the survey up again on the internet. No, that was the correct file.
I spent some time pouring over the Township Warrantee maps, but couldn't find matching land for John Hoover, Jacob Good or Jacob Rubely. I found Michael Hess, but it wasn't matching up.
So, I looked up the survey for the adjoining land of Jacob Good. 9 It made no reference to Jacob Good, but instead showed the land as patented to Thomas Lindley. Now I was still confused, however the name Lindley rang a bell.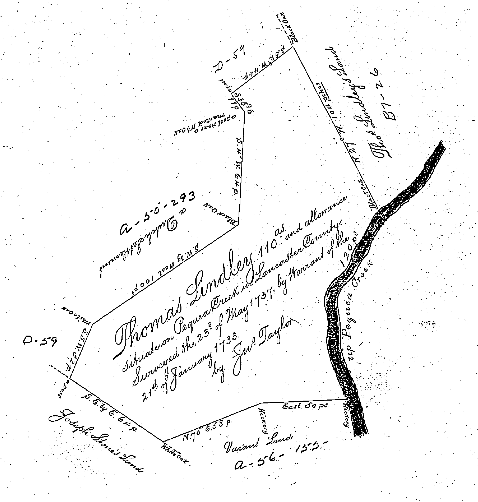 The land John Hoover purchased from Jacob Eshleman bordered on land of Thomas Lindley. Figuring that John Hoover's property bordered on this land, I compared the description of the tract borders from the deed to the survey to see where they met. To my surprise, they matched! And moreover, not only was this Lindley tract the same property patented Jacob Eshlemen in 1744 and sold to John Hoover in 1754, but it also abutted the property allegedly patented to John Hoover in 1752.
Now I knew that I had the correct pieces of property. So, I printed off the surveys for both tracts. Each survey comes with two pages, the survey drawing and information and the reverse page that usually gives the date, location and patentee name. Looking at the reverse pages of these two surveys, I saw that they clearly stated that the patent surveys were for "John Hoover in Right of Michael Hess" and "for the use of Jacob Ashleman." The moral here: examine the whole document before freaking out!
So, I still don't know if Ulrich's son John Hoover is the John Hoover of Necessity—that will take much more work. I don't even know if these documents belong to John2 Hoover (Ulrich1). However, I have, I believe, tied these three documents—the two patents and the deed—together. It is highly likely that John Hoover of Conestoga Township, having patented 25 acres in the township in 1752, purchased the adjoining land from Jacob Eshleman in 1754.
Now I need to find out what happened to this property. Did he sell it or was it passed down to one of his children?
If you have any information on these families, please I'd love to see it!