A while back I wrote about what I had learned about my ancestor James Buchanan. I wasn't sure if all the information I'd found pertained to the same man. I'm still not sure, but I have new information to ponder.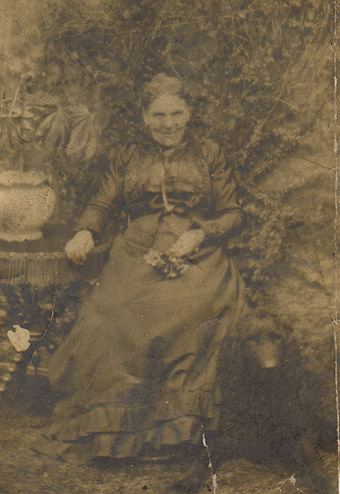 My ancestress Elizabeth Buchanan married Peter Purvis Bonnington on 17 Jun 1864 at Bloomyhall, Junipergreen, in the parish of Colinton, Edinburgh.1  According to this document, her parents were James Buchanan, a miner, and Sarah (Craig) Buchanan, deceased. Elizabeth died 13 May 1928 in Crown Terrace, in the parish of Prestonpans, East Lothian, Scotland, and her death record names her parents as James Buchanan, coal miner, and Elizabeth (Craig) Buchanan.2 Her son Peter was the informant for the document.  I've not been able to locate a birth record for Elizabeth (Buchanan) Bonnington, quite possibly because I'm not sure where she was born. (Please see notes.)
The only record I've been able to find that includes the entire Buchanan family is the 1851 Scottish census. The census enumeration for Cambusnethan parish, Lanarkshire includes the following:3
James Buchanan, head, age 39, coal miner, born Ireland
Saly Craig Buchanan, wife, age 41, born Ireland
Elizabeth Buchanan, dau, age 6, born Ireland
Sarah Buchanan, dau, age 4, born Ireland
Mary Buchanan, mother, widow, age 56, born Ireland
This image from the next page of the census records shows these members of the household:


Robert Collins, lodger, age 20, coal miner, born Wigton, Old House
Alexander Buchanan, lodger, age 22, coal miner, born Ireland
John Hilly, lodger, age 17, coal miner, born Ireland
Of note from this census entry is the fact that all the Buchanans listed are born in Ireland. Also, James Buchanan's mother was named Mary, and there's also an Alexander Buchanan living in the household. Is he related to James and Mary? Perhaps a brother to James? It's not possible to know for sure from this census entry alone.
I believe I found the Buchanans in the 1861 census in the village of Polkemmet, Bathgate parish, Linlithgow, Scotland. If so, James' family was reduced to just himself and his daughter Sarah. They were enumerated in James Smart's household, as follows:4
James Buchanan, lodger, widowed, 37, coal miner, born Ireland
Sarah Buchanan, dau, 14, born Ireland
Although it's troubling to me that James' is somehow 2 years younger than he was 10 years earlier, all the other details match. He's a coal miner, born in Ireland with a daughter named Sarah, whose age and birthplace match those of the 1851 family. Elizabeth was apparently living with a family in Edinburgh and working as a dairymaid.5
Sarah (Craig) Buchanan apparently died sometime between 1851 and 1861. Her daughter Elizabeth's marriage record reports Sarah as deceased by 18646, so again this census record is a possible match to known information. I haven't yet been able to find a death record for Sarah so I haven't been able to find her actual date of death. It's also possible that Mary Buchanan, James' mother, died during this period as well.
Alexander Buchanan—the Brother?
The Alexander Buchanan found in James' household in 1851 was quite likely enumerated in Chapelhall, Bothwell parish, Lanark, Scotland in 1861. His family was enumerated living on Bigger Road as follows:7
Alexander Bouchanan, head, married, age 31, Ironstone miner, born Ireland
Elizabeth Bouchanan, wife, married, age 28, born Ireland
Sarah Bouchanan, dau, age 8, born Neilston, Renfrew
Mary Bouchanan, dau, age 6, born Bothwell, Lanark
Cathrine Bouchanan, dau, age 4, born Bothwell, Lanark
Elisabeth Bouchanan, dau, age 2, born Bothwell, Lanark
John Bouchanan, son, age under 1 mo, born Bothwell, Lanark
A search for these children in the FamilySearch.org  Scotland Births and Baptisms, 1564—1950 database revealed that Alexander Buchanan and Elizabeth Kelly had children: Mary (b. 1855), Catharine (b. 1857), Elizabeth (b. 1859) and William (b. 1865)—a match for three of the five children in the census record.
Bothwell parish records showed that Alexander Buchanan married Elizabeth Kelly of Neilston parish on 18 Apr 1852.8 They were of Neilston parish when "Alexander Buchanan and Elizabeth Kelly spouses Neilston had their first child being a daughter born on the 21st of February and baptized on the 13th of March named Sarah Craig."9 This, too, matches the census record.
Sometime between 1853 and 1855, Alex and Elizabeth must have moved their family back to Bothwell parish. According to the census enumeration the younger children—Mary, Catharine, Elizabeth, and John—were all born in Bothwell parish between 1855 and 1861. Later census records include more information for birthplace, including:10 Chapelhall (Mary), Mossend (Catharine), Coatbridge (Elizabeth), Chapelhall (John), Longlee (Robert),  Cuilhill (William).
Alexander was injured in a mining accident at Heathery Knowe Number 2 (Heathery Knowe Mining Company) in Cuilhill on 11 March 1867. He died 3 hours later from his injuries.11 His death record lists his wife as Elizabeth Kelly. Alexander's parents were listed as John Buchanan (farmer, deceased) and Mary Buchanan, maiden surname Irvine (deceased). The informant for the record—James Buchanan, brother.
Conclusions
So, were James and Alexander brothers? There are several facts that support that conclusion:
Alexander Buchanan was living with James Buchanan's family and mother Mary in 1851.
Alexander Buchanan named his eldest daughter Sarah Craig—after his brother's wife? Maybe.
James Buchanan was the informant for Alexander Buchanan's 1867 death record. The record says that James was Alexander's brother.
John and Mary (Irvine) Buchanan are listed as Alexander's parents in his 1867 death record. John and Mary (Erwin/Irvine) Buchanan are also listed as James' parents in his 1863 marriage to Margaret Tatlock and his 1888 death record.
John (b. ca 1861, Bothwell), Robert (b. ca 1863/4, Longlee) and William (b. ca 1865/66, Old Monkland) Buchanan are living with James and Margaret Buchanan in Shotts, Lanark in 1881.12 They match in name, birth date and birthplace the sons of Alexander Buchanan and are identified as James' nephews in the census enumeration.
Elizabeth (Buchanan) Bonnington named her third son Alexander. Her first son was named William James—presumably after Peter's father William and her father James. Her second son was named Peter, presumably after her husband. Her fourth and fifth sons were named Robert, presumably after her husband's brother or uncle. And her last son was named Craig, presumably in honor of her mother Sarah (Craig) Buchanan who died before Elizabeth turned 16.
Additionally, one of the various birthplaces listed for Elizabeth (Buchanan) Bonnington in the records is Neilston, Renfrewshire—Elizabeth Kelly's "home" parish and where Alexander's first child—Sarah Craig Buchanan—was born and baptized.
I may have even answered the question of whether the James Buchanan who married Margaret Tatlock was the father of Elizabeth. The main impediment to establishing a connection has been James Buchanan's age as reported in the records. Here are the ages listed in documents pertaining to "James Buchanan:"
The 1881 census—a transcription—is so different from the other ages that I can only conclude it was a transcription error or an enumeration error especially when compared to the age on his death record just seven years later. The age differences place his birth around either 1812/14 or 1822/24. Ten years is not a minor difference and seems to indicate that these records are for different men.
However, there are enough consistencies and connections—particularly if you conclude that Alexander was his brother—to make a case that they are, in fact, the same man. The records consistently name his occupation as a coal or ironstone miner and his birthplace as Ireland.
Alexander was living with James and Sarah (Craig) Buchanan in 1851. Alexander's sons were living with their uncle James and his wife Margaret in 1881. Alexander and James (d. 1888) have the same parents—John and Mary (Erwin/Irvine) Buchanan. Furthermore, when James married Margaret Tatlock in 1863, his marriage record notes that he was a widower. Sarah (Craig) Buchanan died prior to 1864 and most likely prior to 1861—quite possibly before 1853 when Alexander's daughter Sarah Craig was born.
In 1871 and 1881, James and family were apparently living in Coltness Iron Company housing. Coltness also had colleries in Bathgate, so it's possible he was also working for them in 1861 and 1863 when records show him in Bathgate.19
So, for now, I'll have to say the evidence is not conclusive. It's certainly suggestive, but there's no smoking gun. For research purposes, I plan to keep it as a working assumption. But more work is needed to build a stronger case.
Based on this information do you think James and Alexander are siblings? Do you think that Elizabeth's father James married both Sarah Craig and Margaret Tatlock or were there two James Buchanans? Leave a comment and let me know what you think.
Notes:
According to various records, Elizabeth (Buchanan) Bonnington was born in:
Most of the enumerations place her birthplace in the same general area between Glasgow and Edinburgh. The odd ball locations are Neilston, Renfrewshire (1871) and Ireland (1851). But even these locations provide clues to Elizabeth's relatives—Neilston to Alexander Buchanan, and Ireland to her parents, sister and presumed uncle Alexander and his wife Elizabeth Kelly.