Several weeks ago, Ancestry released their newest tool: Genetic Communities. These communities are based on some pretty cool work with the DNA of millions of AncestryDNA test-takers.  This work was published in Nature Communications. You can read Ancestry's paper "Clustering of 770,000 genomes reveals post-colonial population structure of North America" for more information. (It's neat stuff!)
After the tool was revealed, there were a lot of great articles explaining it, how it works and how to use it, including:
(These blogs are good sources for other information on genetic genealogy and DNA testing, too!)
My Genetic Communities
My genetic communities were exactly what I would have expected from my research. I'm part of the Settlers of Colonial Pennsylvania and its two subgroups, Settlers of Central Pennsylvania and Settlers of the Poconos & New Jersey. The subgroups even match up to my paternal and maternal lines.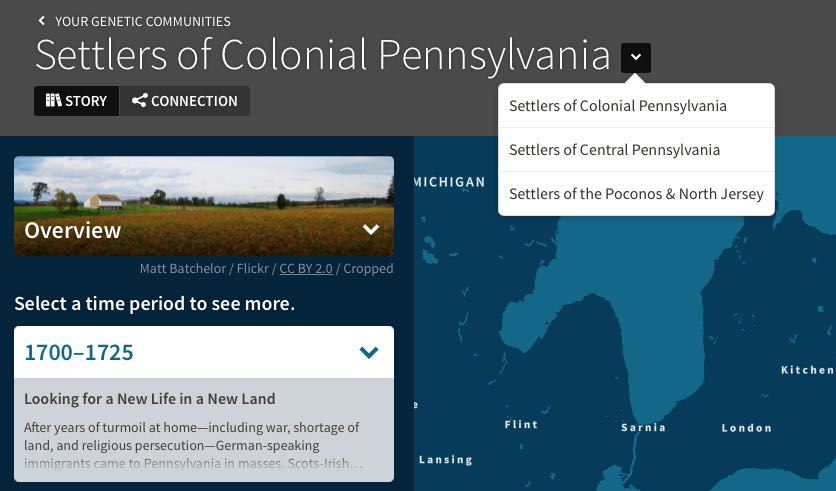 Although I was hoping to see some European communities,1 I'm not disappointed in my results. There were no surprises that could launch new and exciting areas to research, but that's okay. There is great value in consistency in genealogical research. My DNA results have—so far—been supporting my research-based conclusions.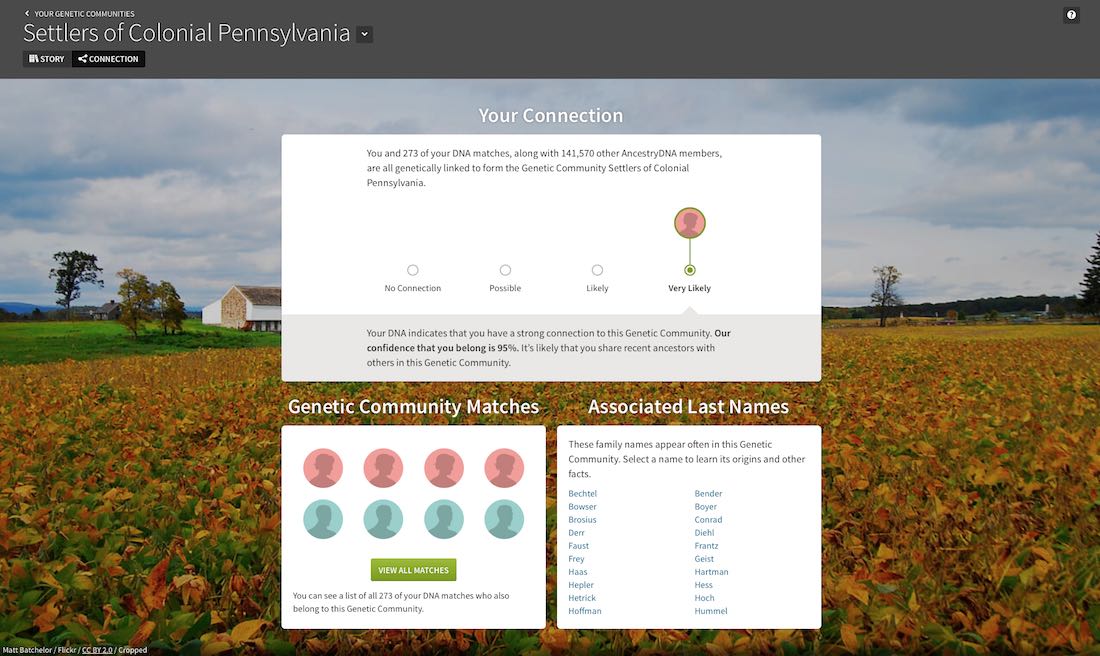 Ancestry's confidence that I genetically belong in this community is 95%. This is a very good thing. It means that my work is most likely valid and correct. There may be tweaks that need to be made the farther back I go, connections to re-evaluate, but overall the foundation is sound. I am following the right paths.
One thing I've noticed is that the communities are not static. The Settlers of Colonial Pennsylvania included only Pennsylvania in the original release, but now includes all of Pennsylvania and portions of Ohio.

This demonstrates, I believe, later migration paths of descendants of those early Pennsylvania settlers as they left eastern and central Pennsylvania. The article in Nature Communications includes a graphic that visually shows some of this migration by showing where the "Pennsylvania community" lived 3-9 generations ago.
So, it's possible that as more people test—especially non North Americans—these communities will be refined even further and I just may get to see that Scottish community I was hoping for.
Footnotes
These communities cover the last 200-300 years and in that timeframe I've had Scottish and German immigrant ancestors. Being able to learn more the communities of my Scottish ancestors would be great help, so I have been hoping to see it reflected in my DNA results. ↩