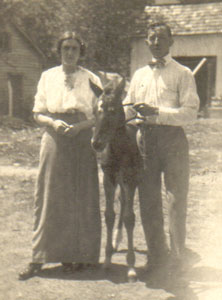 Willia Hocker Sr., son of Albert Curtin and Lillian (Leedy) Hocker, and his (future?) wife Isabella Aitken Smith, daughter of William and Eliza Craig (Bonnington) Smith, possibly at the Hocker family farm in Cumberland County, Pennsylvania.
Cite This Page:
Kris Hocker, "Photo: William and Isabella Hocker," /genealogy the genealogy & family research site of Kris Hocker, modified 4 Jan 2010 (http://www.krishocker.com/photo-william-and-isabella-hocker/ : accessed 2 Sep 2015).
Content copyright © 2010 Kris Hocker. Please do not copy without prior permission, attribution, and link back to this page.