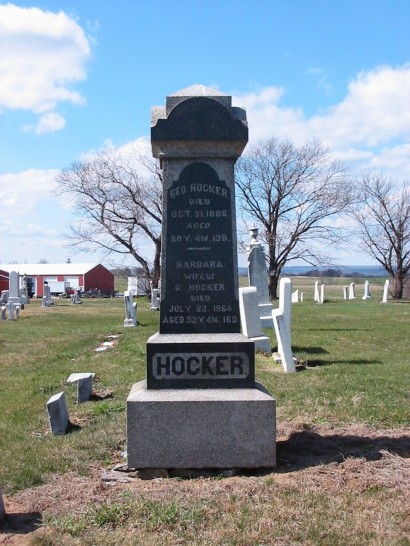 George Hocker, son of Martin and Christiana (Beinhauer) Hocker, was born 18 June 1806 in Dauphin County, Pennsylvania. He died 31 October 1886, likely in South Hanover Township, Dauphin County, Pennsylvania, and was buried in Union Deposit Cemetery. On 15 March 1832, George married Barbara Martin in Salem Lutheran Church, Jonestown, Lebanon County, Pennsylvania. She died in 1864 and George was married again to Eliza Kratzer.
Cite This Page:
Kris Hocker, "Tombstone Tuesday: George Hocker (1806-1886)," A Pennsylvania Dutch Genealogy the genealogy & family research site of Kris Hocker, modified 27 Nov 2012 (http://www.krishocker.com/tombstone-tuesday-george-hocker-1806-1886/ : accessed 4 Sep 2015).
Content copyright © 2012 Kris Hocker. Please do not copy without prior permission, attribution, and link back to this page.