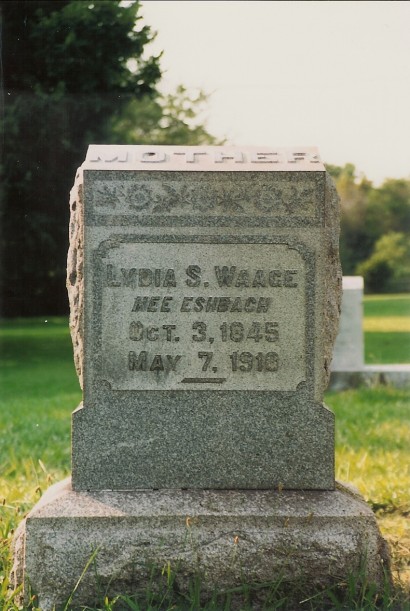 Lydia Eshbach, daughter of Henry and Catherine Lydia (Bobb) Eshbach, was born 3 Oct 1845 in Alburtis, Lehigh County, Pennsylvania. She died 7 May 1910 and was buried 11 May 1910 in Pennsburg, Montgomery County, Pennsylvania. On 29 Aug 1876, she married Dr. Charles Theodore Waage, son of Rev. Frederick and Angelina (Garber) Waage, probably in Pennsburg. The couple had one daughter, Mary Catherine "Mae" Waage in 1877.
Cite This Page:
Kris Hocker, "Tombstone Tuesday: Lydia Waage (1845-1910)," /genealogy the genealogy & family research site of Kris Hocker, modified 28 Dec 2010 (http://www.krishocker.com/tombstone-tuesday-lydia-waage-1845-1910/ : accessed 1 Sep 2015).
Content copyright © 2010 Kris Hocker. Please do not copy without prior permission, attribution, and link back to this page.