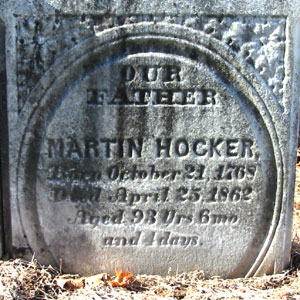 Martin HOCKER, son of Johann "Hans" Adam HACKER and Maria Elisabetha WEIDMAN, was born 21 Oct 1768 in Lancaster County, Pennsylvania and died 25 Apr 1862 in Derry Township, Dauphin County, Pennsylvania, aged 93 years, 6 months and 4 days. He was buried in the Zion Evangelical Lutheran Church cemetery in Hummelstown, Derry Township, Dauphin County. Hockersville in Derry Township was named after Martin.
He married twice, first on 22 Mar 1799 to Christiana BEINHAUER, daughter of Peter BEINHAUER and Christina STOBER, and second in 1809 to Barbara SMITH. Martin and Christiana had five children: John Peter, Catharine, Johannes "John", George, and Christiana. Martin and Barbara had nine children: Elizabeth, Martin, Mary, Jacob, Susannah, Sarah, Anna, Barbara, and Magdalena.
Cite This Page:
Kris Hocker, "Tombstone Tuesday: Martin HOCKER (1768-1862)," A Pennsylvania Dutch Genealogy the genealogy & family research site of Kris Hocker, modified 25 Dec 2010 (http://www.krishocker.com/tombstone-tuesday-martin-hocker-1768-1862/ : accessed 4 Sep 2015).
Content copyright © 2010 Kris Hocker. Please do not copy without prior permission, attribution, and link back to this page.