If you've been following my Huber/Hoover research, you may have seen me refer to some of them as "Byerland Hoovers." Who were they? And why am I calling them the "Byerland Hoovers?"
The Byerland Hoovers were the earliest Hoover families to appear in the Lancaster County tax records. They were all Mennonites who settled in Conestoga and Pequea townships along Pequea Creek. They are called the Byerland Hoovers because of their proximity to the Byer/Boyer Mennonite Meeting House.1
Joanne Hoover coded these Hoovers in her research as follows:
[H] Woolrich Hoover
[J] Jacob Hoover
[K] Henry Hoover
[D1] Jacob Hoover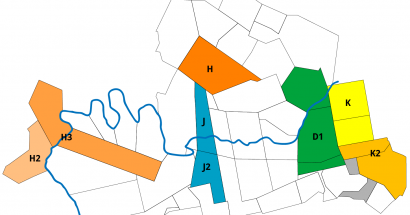 [H] Woolrich Hoover died prior to 23 Jun 1759 when his heirs sold his property (orange tract marked H) to his eldest son Johannes Hover.2 He likely died in 1757 as an inventory was filed for his estate that year. He was listed amongst other immigrants who had been in Pennsylvania since 1718 in an 1729 naturalization list.3
[J] Jacob Hoover was also likely in Pennsylvania by 1718. He was assessed £10 on his property (blue tract marked J) in 1720.4 His land went to his son John who patented it and an adjoining tract (see J2). This land remained with John's descendants for many, many years.
Joanne Hoover includes only one Henry Hoover and includes all the [K] and [K2] tracts as belonging to one man. Based on my land research, I believe there were two Henry Hoovers. [K] Henry Hoover died in 1757 and left his land (yellow tracts marked K) to his son John Hoover and daughter Elizabeth (Hoover) Boyer.5
[K2] Henry Hoover and his wife Catharine divided their property (yellow-orange tracts marked K2) between their sons John and Jacob Hoover in 1767.6 I traced this land through deeds from the children of Jacob (d. 1788) and John (d. ca 1810).
Joanne Hoover presumed that [H] Ulrich, [J] Jacob and [K] Henry "were the brothers named in the York County, Pennsylvania, will written Feb 15, 1771 by Christian Hoover who died without issue."7 I have not been able to prove or disprove this theory. The fact that Christian named Johannes Huber and Johannes Line—two names seen often in Conestoga/Martic townships—as trustees of money Christian wanted paid out to the surviving children of his brothers Jacob, Ulrich, and Henry makes it a tantalizing possibility.
[D1] Jacob Hoover was the son of Hans Huber of Earl Township. His descendants are documented in the book The Huber-Hoover Family History by Harry M. Hoover.
There were other tracts in this same general location that belonged to Hoovers.
The two tract in lighter orange—H2 and H3—may have been purchased by sons of [H] Woolrich Hoover. [H2] was purchased by John Hoover from Jacob Eshleman in 1754.8 He had patented 25 acres just to the west in 1752.9
Part of [H3] was purchased by Ulrich Hoover [Jr.?] from the heirs of Henry Line in 1771.10 Ulrich's eldest son sold this property to his step-father Christian Huber in 1788 and to Abraham Kendig in 1789.11
The two gray tracts also belonged to Hoovers. The top one was warranted in 1803 and patented in 1811 to Martin Huber. I am not sure if this Martin was the grandson of  [D1] Jacob Hoover or the grandson of [K2] Henry Hoover. The boot-shaped tract was warranted to Jacob Hoover in 1796 and patented to him in 1803. He may have been the son of [H3] Ulrich Hoover (one survey showed this tract as being of Ulrich Hoover), the son of [D1] Jacob Hoover or the grandson of [K2] Henry Hoover. Without information on the subsequent transfer of these properties it's difficult to determine the owner's identity.
So, these are the families that make up the "Byerland Hoovers."