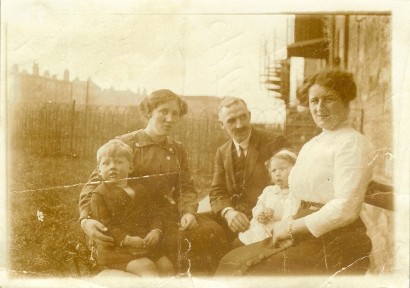 The back says: "Taken a week past Sunday when up. That is Roy [Rog] next door sitting on Crissie's knee" and also "Peter Chrissie May Jessie & a little boy that always with May."
Cite This Page:
Kris Hocker, "Wordless Wednesday: At Home in Edinburgh, ca 1914," /genealogy the genealogy & family research site of Kris Hocker, modified 6 Aug 2011 (http://www.krishocker.com/wordless-wednesday-at-home-in-edinburgh-ca-1914/ : accessed 29 Aug 2015).
Content copyright © 2011 Kris Hocker. Please do not copy without prior permission, attribution, and link back to this page.