Caius Frederic Sophus Waage (aka Frederick) was born 17 Aug 1797 in Schleswig, Holstein, Denmark.1 He studied at the University of Kiel in Germany and came to the United States in 1819.2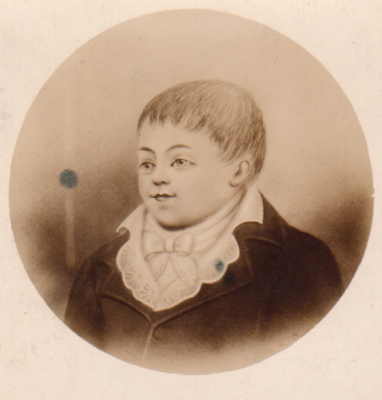 The Biographical and Portrait Cyclopedia of Montgomery County Pennsylvania states about him:
Frederick Waage (father) was born in the Dukedom of Holstein, Denmark, on August 17, 1797, where he profited by attendance upon the excellent schools for which that country is noted, and completed a course of study in the University at Kiel. At the age of twenty-two years he came alone to the United States and located in Chester county. Young Waage had a strong desire to enter the profession of the ministry. He accordingly took up the study of theology and kindred subjects under the tutelage of Rev. Geisenheimer, a Lutheran minister of Chester county. After making a thorough preparation for his chosen work, he was ordained as a minister of the Lutheran church and for sixty years zealously labored in the cause of the Divine Master. For a number of years he was stationed at Milton, Northumberland county, and in 1829 took charge of St. Luke's church at Pennsburg, where he remained for forty years, supplying at the same time five other churches of the neighborhood, being assisted by his younger son. His marriage resulted in the birth of three sons and seven daughters: Hannah, deceased; Charles T., subject; Angeline, deceased, was the wife of Dr. Edwin Beiber; Fannie, who wedded Isaac Crouse of Crousedale, Lehigh county, Pennsylvania; Andora, became the spouse of Charles Gaston, an attorney of St. Paul, Minnesota; Emma, deceased, was the wife of Charles Gilfillan, also of St. Paul, Minnesota; Fannie who married Charles Gilfillan, the widower of her sister; Rev. O.F., who was born February 4, 1845, at the old Lutheran parsonage near Pennsburg, was educated in the Bucks County Normal and Classical schools under the direction of Rev. Dr. Horn, of Quakertown; graduated from Gettysburg Lutheran seminary, and at once entered upon the work of the ministry, taking his father's entire charge and has ever since been actively and zealously engaged in the work of his profession; Edwin, died at the age of five years.

Rev. Frederick Waage died on August 23, 1884, at the age of eighty-seven years. His widow still survives.
Frederick Waage married about 1823 Angelina Garber. The couple had children:
Johanna "Hannah" Waage

was born ca 1825 and died bef 1890.
Dr. Charles Theodore Waage was born 22 Oct 1827 in Milton, Northumberland County, Pennsylvania and died 6 Mar 1921 in Pennsburg, Montgomery County, Pennsylvania. He married twice, first to

Mary Ann Heisler

. The couple had four children: Ida (1854-bef 1890), Emma Josephine (1856-1869), Eugene H. (1860-aft 1930), and Charles Frederick (1862-1863).

He married second Lydia S. Eshbach, daughter of Henry M. and Catherine Lydia (Bobb) Eshbach. The couple had one child: Mary Catharine (1877-1970), my great grandmother.

Angeline Waage

married

Dr. Edwin Beiber

.

Emma Waage

was born ca 1833 in Pennsylvania and died bef 1867 in Minnesota. She married

Charles D. Gilfillan

Anndora S. Waage

was born ca 1836 in Pennsylvania. She married

Charles Gaston

. The couple had at least three children: William G. (1861—?), F.W. (1869-?), and Hugh P. (1872-?).

Theodora Rosalie Waage

was born in Nov 1839. She married

Isaac Yeakel Krauss

on 8 Oct 1861. The couple had children: Nevin, Elmer Frederick (1862-aft 1904), Florence Sarah (1864-Jan 1917), Edgar Anthony (1867-?), Charles Oswin (1869-?), and Isaac Walter (1878-?).

Franciska S. Waage

was born ca 1842/4. She married

Charles D. Gilfillan

after her older sister's death. The couple had children: Emma C. (ca 1869-?), Fannie S. (ca 1871-?), Charles O. (ca 1873-?), and Fred J. (ca 1875-?).

Oswin Frederick Waage

was born 4 Feb 1845 and died 7 Aug 1919 in Pennsburg, Montgomery County, Pennsylvania. He married 22 Jun 1869

Hannah Young Schelly

, daughter of Dr. Joel Y. and Hannah (Young) Schelly. The couple had a son Frederick Oswin Waage on 26 Oct 1877. A doctor, he died at Fort Bliss, Texas during the influenza epidemic in 1918.

Atha "Addie" Waage

was born 26 Apr 1847 and died 5 Oct 1928 in Pennsylvania

Edwin Eugene Waage

was born 13 Sep 1849 and died 23 Sep 1854 in Pennsylvania.
Footnotes
Ruoff Phd., Henry Wilson, Editor, Biographical and Portrait Cyclopedia of Montgomery County Pennsylvania, Containing Biographical Sketches of Prominent and Representative Citizens of the County, Together with an Introductory Historical Sketch (Philadelphia: Biographical Publishing Company, 1895). ↩
"The Name of Waage is Replete with Honors from Pennsburg to Cornell, Norristown Writer Notes," Montgomery county, Collection of Kristen Hocker. ↩